Old News
---
Player Archives
Bubba
Hawk
Roberto
Mariah
Hollywood
Bambino
Stainless
---
Climbing
Cycling
Diving
Drinking
Food
Gear
Kayaking
Movies
Running
Smoking
Surfing
Swimming
Training
Traveling

---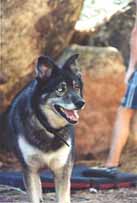 Tuco: The official mascot of birthdaychallenge.com
Steve's Diary

10 - 2

Hurricane Keith
My friends Greg and Megan headed off for their honeymoon today. They were stopping in CA, then heading to the Yucatan, where Hurricane Keith is currently centered. Greg said he felt like he was in a disaster movie where the characters are going about their business while there is hurricane news always in the background. As I dropped them at the airport, the radio subject just turned to Hurricane Keith. Hmmmm.
I'm having a great time in Austin. The wedding was perfect. I met a bunch of cool people and it seemed everyone was really interested in the birthday challenge. I think there may be a lot of 'em in Austin this year.
Had dinner with an old friend from Santa Barbara who now lives in Austin, Rob "Slappy" Norris. He did my 32nd challenge with me. About the King Pin fritters I'm attempting he said, "You're gonna die." I think he was being literal.
Previous Next Birthday Challenge Home
---
Birthday Challenge
Santa Barbara, CA
To report a technical problem with this website:
info@birthdaychallenge.com