Banks Sets Record On 29th
Name: Bob Banks

Birthday: June 29, 1971

Occupation: Semi-employed climbing bum.


THE CHALLENGE:

290 boulder problems

29k run

290 pull-ups, 290 push-ups, and 290 crunches

29 lap swim

29 minute jump rope

29 beers/cigarettes (any combination of the two).
"Let them try" was Bob "Enzo" Banks' first comment upon completing 290 boulder problems as part of his 29th challenge on June 29th, 2000. This broke the unofficial record by 20, which was established by Steve "Jacques" Edwards in 1997.
Not quite finished, he then set off on a 29-kilometer run before finishing drinking, and collapsing in severe exhaustion, unable to finish the remaining physical parts of his Challenge.
See Bob's report here. See Bob's training schedule here.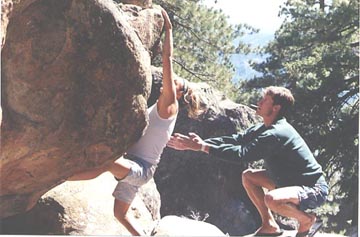 Dolworth showing good form whilst spotting Meagan Fain, and showing good form in general (above). Edwards photos.