Hans, et al:
I must say, the task at hand turned out to be, ahem, a tad bit ambitious. For the uninformed, June 29th was my 29th birthday. The plan, concocted by Steve 'Manny' Edwards (aka Captain Charlie) and myself (aka Captain Charlie) was the following, to be completed in 29 hours: 290 boulder problems 29k run (17 miles) 290 pull-ups 290 push ups 29 minutes jumprope 29 laps swimming drink/smoke a combo of 29 beers/cigarettes (not 29 of each, but any combo of the two adding to 29).
So I found myself on Pine Mountain at 6am Thursday the 29th, after drinking beer all night and less than 4 hours of sleep, awake to face the Challenge. The result: I did the 290 boulder problems, which turned out to be monumentally harder than I had anticipated, and also took an hour and a half longer - 9 hours total. The first 200 took five hours, took 1/2 hour lunch, and the last 90 took 3 1/2 hours - GRIM and EXHAUSTING.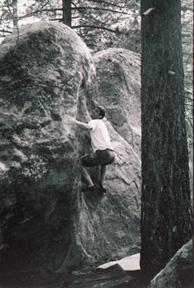 The run, which turned out to be much harder as well, took almost 4 hours to complete, far longer than the 2:15 to 2:30 I anticipated. The first 9 miles went like candy and both Manny and I thought it would go well. Wrong. It got exponentially worse with every asphalt pounding step after that. We did however, cross the finish line in style, beers in hand, smokes in mouth.
The rest of it? 290 pull-ups, push-ups, 29 minutes jumprope, and 29 laps . . . not a friggin chance. It was almost 9pm at the end of the run and I couldn't bend my legs without having a hamstring cramp, could barely lift my arms over my head much less pull up body weight, and every time a reached around my back to swat away a fly both pecs would cramp.
Manny did the whole run with me and wasn't in too much better shape than I. I think the bouldering took way more out of my legs than I expected . . . go figure - probably a couple hundred leg presses took it's toll. Oh, and I didn't even really try to finish the drink/smoke part, and may have even made it, but stopped counting once I abandoned the rest of the challenge.
I somehow don't think that drinking beer all day and puffing on American Spirits helped my running, but hey, that was the point. As this was primarily a test to see what was possible in the realm of massive exercise and alcohol/nicotine intake, we'll have to do some fine tuning with Manny's November Birthday Challenge now, but I still plan on doing a large portion, if not all of his, although my desire to do any more volume bouldering in my lifetime is presently nil.
A huge thank you to my support crew, who went through every grueling (and often boring) minute with me, bouldering, drinking beer and giving me shit the whole time:
Manny (aka Captain Charlie), who kept the run from being completely boring instead of just agonizingly painful.
Thomas and Sybil Adank, Castle guests visiting from Switzerland and drivers of the Ricky Martin charged convertible BMW (aka Lizzy). Allez, allez, allez!
Micah Elconin (who FINISHED the Challenge in increments of 10 instead of 29 - although not in 10 hours)
Kyle Phillips
Greg Nishida
Brian Wiesel
The Rat
Reed 'Leer' Bartlett (aka Captain Charlie) - I wouldn't have even finished stage one without those 'Ascents' amigo, muchos gracias.
cheers all,
Bob (the REAL Captain Charlie)
Above photo: Swiss climber Thomas Adank on one of the Captain's 290. Photo by Bob.