Old News
---
Player Archives
Bubba
Hawk
Roberto
Mariah
Hollywood
Bambino
Stainless
---
Climbing
Cycling
Diving
Drinking
Food
Gear
Kayaking
Movies
Running
Smoking
Surfing
Swimming
Training
Traveling

---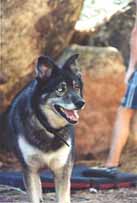 Tuco: The official mascot of birthdaychallenge.com
Steve's Diary

10 - 1

Big Tex/

Happy Birthday LeeAnne
Austin is the home of America's (and perhaps the world's) greatest cyclist, Lance "Big Tex" Armstrong. Most cyclists' live in places like Boulder or San Diego but he seems happy here. After reading his biography I was excited to see why. Now I see why he can be so surly.
Unlike California, most of the roads do not have bike lanes. And most of the motorists don't like cyclists. Often around Santa Barbara people cheer or yell words of encouragement when they see a lone cyclist, especially if it's on a pass or rigorous terrain. Today I had some guy in a big truck flip me off, and not because I was impeding traffic, he and I were alone on the road.
Oh well, it's still pretty good riding. There are no mountains but many steep, little hills.
Some friends from the wedding went for a run today. We spotted the highest point we could find and ran up it. At the summit we saw it was called "Old Baldy". I thought that was funny considering that the highest point of my 40-peak day is called "Old Baldy". Of course, this one is about 10,000' lower.
Previous
Next
Birthday Challenge Home
---
Birthday Challenge
Santa Barbara, CA
To report a technical problem with this website:
info@birthdaychallenge.com