Climbing Links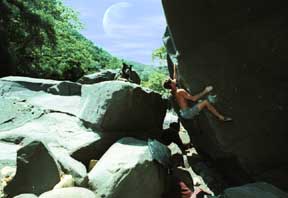 jonathan kingston photo
Rockclimbing.com: Great site for info if you're traveling, with loads of forum banter that's mostly inane. Many photos from all over the world. A very good resource.
UK Climbing: Brit version of the above, so it's far more witty. Great info if heading abroad.
Summit Post: Mountain info that's essential for ticking loads of peaks in a day.
Planet Mountain: Great site with up-to-date news on the hard stuff. An important stop to stay inspired and well informed. In English and Italiano.
Planet Fear: UK version of the above. News and lots more stuff.
Explorer's Web: Great site with loads of info. Not all climbing. In fact, mainly not climbing.
Bivouc: A Canadian mountain encyclopedia.
Dr. Topo: Lots of maps n' other stuff. Take some liberties with guides, and maybe vids, but a great site nonetheless.
Supertopo: Chris Mac's site that has excellent information, though limited scope.
Sportclimbing.com: Mainly in German but some good info to be found, even if you can't read the subtle points.
The Bouldering Domain: The bouldering hub and links to the Camp 4 news site.
Bleu info: Rad site with vids of many many problems at Font!
Climbing Films: Loads of video. Enjoy!
Mountainzone: Mainly mountaineer stuff. Expensive site--of course--and worth a stop if you like snow and cold.
8a: New site from Sweden with tons of news. Some strange stuff but it keeps improving and has potential to become the best news source in climbing.
Climbing Magazine: The standard American drivel from boring individuals that think it's all mystical and deadly serious. Good coverage of major news from Dougal McDonald, but wipe that smile off your face--we're risking our lives here, dammit!
Gripped: Canadian mag now online. Some good articles can be found printed in full.
Desnivel: Pretty good site if you can read Spanish. Some great vids.
Grimper: French mag. Not such a great site but pretty.
Rock & Ice: Once the worst site on the web, it has now become pretty good. Now better than Climbing. Oops, they changed it again, this time it looks like they hired a 1st grader to webmaster. Awful.
Rockfax: Stodgy brits. Mainly guidebook stuff but an occasional great article.
Tomaz Humar: Traveling alpinist with great trip logs. Feel like a bit o' sufferin', do ya?
She Sends: By women for women (well, maybe not). New and as of yet not much content, but may get better.
Video: Weird site in, like, Polish or something that has a ton of vids if you can figure it out. Slow download time so right-click everything.
Front Range Bouldering: Good info for bouldering in Colorado.
The Crag: Not up to speed yet but might be a great traveling resource eventually.
Speedclimbing.com: Hollywood Hans' meth-lab devoted to crank addicts of the cliffs.
New England Bouldering: Tons of info on New England, which would be great if anyone lived there.
Gone Alpine: Pacific NW site, so expect snow.
Kalymnos: Yeah, baby! Time for a vacation...
South Africa: More holiday time or, hell, just go live there.
Training For Climbing: "the planet's #1 source for information on all aspects of climbing performance!" Umm, well, not exactly. Some okay info though.
World Topo: A bit shy on info at the moment but might become a serious resource.
Himalayan Club: Handy if you're heading to Nepal.
Big Walls: John Middnedorf's site with some tall tales of life in the vertical.
John Gill: Ever wondered much about the history of bouldering?
Todd Skinner: An online travel log from a guy who's been out there a long time.
Paul Pianna: Hmm, this looks a lot like Todd's site. Wonder how that could be?
Ines Papert: Personal page of a super stout German climber. She could be at the tip of the trend here.
Annabelle Bond: Hot chick trying to climb the 7 summits. Not a real climber, which make her journals somewhat interesting reading.
Five-Ten: Best shoes and stickiest rubber, but do they update their site anymore?