Cycling Links
photo: jason houston
Cycling News: Best cycling site on the web. All you need for news and information. Updated daily.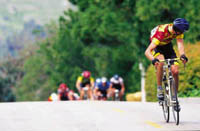 Climbing Stats Page: Check out the stats for famous climbs you'll want to do on your bike!
Daily Peloton: Another great news site. Loads of interviews with American riders.
Pez Cycling: Good site with updated news and stories.
Velo News: Great site with news updates throughout the day.
Notes on Climbs: Some statistics on road bike climbs, mainly in California but this list is being updated.
Marco Polo Cycling Club: The funnest team in the peloton, and you can take part. All you have to do is sign up!
Pro Cycling: Okay site for a great print mag. Like it says, it's all pro info.
Bicycling Magazine: Good site with lots of info.
BikeRide.com: Another good site, especially for you of other two-wheeled disciplines: mountain biking, cyclocross, triatheletes, etc.
Active.com: Great place for race info. Weird navigation but loads of info if you can find it.
Lance Armstrong.com: Great site with loads of links to places you need to go.
Dotsie Cowden: T-Mobile rider and "prettiest girl in the peloton." Frequent updates and a diary. Best female racer's site, so far.
Mari Holden: Former world time trial champion's site. Not updated very often though.
Graham Watson: Elegant site from the best cycling photographer. Get some wallpaper.
Tyler Hamilton: News and info on one of America's best. Good diaries and links, but can he take down Big Tex?
Bobby Julich: Before the Texan, Bobby was America's best hope for a Tour victory. As of 2004, he's back, big time!
George Hincapie: Big George likes his coffee, making him a favorite of ours. He also about the toughest guy in the peloton.
Floyd Landis: USPS rider's site. Lance's heir?
Drunk Cyclist: Cycling, porn, and--oddly enough--sensible politics. Have fun.
Le Tour: Slow-loading and sometimes irritating site covering the world's greatest race. Still, it's a must stop in July.
Vuelta De Espana: Good site for maybe the coolest of the stage races. No road is too steep for the Vuelta.