Old News
---
Player Archives
Bubba
Hawk
Roberto
Mariah
Hollywood
Bambino
Stainless
---
Climbing
Cycling
Diving
Drinking
Food
Gear
Kayaking
Movies
Running
Smoking
Surfing
Swimming
Training
Traveling

---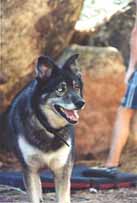 Tuco: The official mascot of birthdaychallenge.com
Steve's Diary

9 - 29

Sandbagged:

Part II
I staggered into Austin last night about as frazzled as can be. In Texas, the most direct route is not always the fastest. After spending the entire day on one-lane back roads I finally hit I-71, which from the look of the map seemed very close. Turned out to be 130 miles away. "Okay" I thought, "This is Texas, it's big, no big deal".
What I didn't count on was deer. A lot of deer. In fact, I would say there were more deer on the side of the road then animals I've seen out of windows in my car in my entire life. If there were this many animals at Lion Country Safari the guests would think it was too unrealistic. To make this worse, I-71 is no highway. If Texas is so damn big than why are their highways so small? I-71 is a windy, narrow path that is lined with deer and oncoming trucks. It was two hours of torture. When I finally got to Megan and Greg's place all I could think of was the word "beer".
Previous Next Birthday Challenge Home
.
---
Birthday Challenge
Santa Barbara, CA
To report a technical problem with this website:
info@birthdaychallenge.com