Old News
---
Player Archives
Bubba
Hawk
Roberto
Mariah
Hollywood
Bambino
Stainless
---
Climbing
Cycling
Diving
Drinking
Food
Gear
Kayaking
Movies
Running
Smoking
Surfing
Swimming
Training
Traveling

---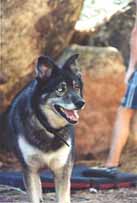 Tuco: The official mascot of birthdaychallenge.com
Steve's Diary

9 - 26

On the Road
Off to a wedding in Austin—finally—and it'll be nice to be back on the road. When I was climbing all the time I spent months on the road each year. I miss it. Originally I was planning to turn this into an extensive trip but there isn't time. Probably isn't time to go to the wedding at all but what the hell, I said I'd be there so I'm going.
This should be a good time to get focused. The road usually holds some inspiration for me, not to mention the escape from day to day business.
I will start to taper but still exercise each day, focusing on weaknesses. The key now is to not bonk, which means no monster days. Since I'll be in Austin I'll be sportclimbing for only the second time this year. Strangely enough, I'm looking forward to it.
Previous Next Birthday Challenge Home
---
Birthday Challenge
Santa Barbara, CA
To report a technical problem with this website:
info@birthdaychallenge.com