Old News
---
Player Archives
Bubba
Hawk
Roberto
Mariah
Hollywood
Bambino
Stainless
---
Climbing
Cycling
Diving
Drinking
Food
Gear
Kayaking
Movies
Running
Smoking
Surfing
Swimming
Training
Traveling

---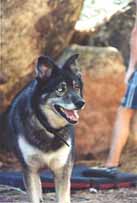 Tuco: The official mascot of birthdaychallenge.com
Steve's Diary

9-25

Man, am I tired
I've been getting ready to leave town and running around like crazy. I've driven all over the state--moving, training, challenges, etc--and trying to keep training scientifically. Haven't had a good nights sleep in as long as I can remember. I'm hammered. I feel like I could sleep for a month straight.
Hopefully when I get on the road things will settle down. I can start tapering my training and get some quality rest.
While I have been very conscious of trying not to overtrain I still have been doing a ton of volume, and perhaps not eating enough--or well enough--so I am definitely overtrained a bit. Not bad though, I've been much worse, but I don't think you can help but overtraining some and, at times, it is better than undertraining. I will find out just how much by how long it takes me to recover as I taper. If I'm climbing the walls in three days than I got it perfectly. However, I bet it's going to take awhile because I feel that deep, deep tiredness that comes from overtraining.
But I'm still confident that I'll be fine. Ya, ya, that's right. I'm going to be fine.
---
Birthday Challenge
Santa Barbara, CA
To report a technical problem with this website:
info@birthdaychallenge.com