Old News
---
Player Archives
Bubba
Hawk
Roberto
Mariah
Hollywood
Bambino
Stainless
---
Climbing
Cycling
Diving
Drinking
Food
Gear
Kayaking
Movies
Running
Smoking
Surfing
Swimming
Training
Traveling

---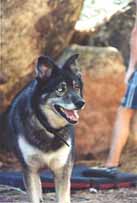 Tuco: The official mascot of birthdaychallenge.com
Steve's Diary

9 - 10

Mucho Gusto
Hello Everybody,
Since one of the reasons that I chose to do a multi-day birthday challenge this year was to see how I would hold up throughout it I figured that writing an online diary would serve two purposes. One, it will get me to actually record what I'm doing--something that I haven't always been good at--and two, since I'm making this public, it should provide a little more pressure and doesn't give me an easy option to bail if things start going poorly (not that I would do this but ...). And believe me, things going poorly is an option.
Here are a couple of things that it might help you to decipher my drivel:
My (well, mine Bob and Rachel's) dog is named Kailo but is usually referred to as Tuco, Ratso, or The Rat.
My cars are referred to by name. The Lizzy is my '91 BMW convertible and the Asteroid or The Pork Chop Express is my '85 Toyota Van, arguably the best vehicle every made (270,000 miles and going strong).
My friends all have numerous nicknames and I will try and somehow keep them clear. Here are a couple of people that may come up a lot:
Bob - Roberto, Minister, Bill, Dolworth, Enzo
Reed - Bubba, Senor Leer, The Jesus
Todd - Mr. Sing--hell, could be referred to as almost anything
Phil - Bambino, Bert, Aguafina, White Cougar, many different Chinese names.
I am also referred to by many names including: Manny, Stainless, Rico, Fardan, Ted, Varjak, Jacques.
Hawk is a real person.
Todd Mei and I made a film called Icarus Descending and wrote a much more normal film called Arroyo Grande. I don't know why this should come up but it probably will.
I'm more influenced by Papa Hemingway than I should be and therefore often scrawl crazy, nonsensical things whilst drunk and should not be held accountable for them.
I'm sure there's more I should warn you about but that's all I can think of.
Thanks for tuning in,
Steve
---
Birthday Challenge
Santa Barbara, CA
To report a technical problem with this website:
info@birthdaychallenge.com