the stainless interview

aaron baker interviews steve
40 days of hell
challenge 2000
birthday challenge history
a recap of all challenges pre-2k
diaries
entries from 40 days of hell
challenge awards
the $10,000 challenge is still available
beach body message boards
ask steve a fitness question
beach body celebrity chat
or ask him in person
the newsletter archives
periodical fitness advice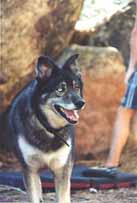 Tuco the Rat: Official mascot of birthdaychallenge.com
---
Birthday Challenge
Santa Barbara, CA
To report a technical problem with this website:
info@birthdaychallenge.com
Steve Edwards 2002

Ocean's 11

or

Vuelta A Santa Monica

Just A Guy With A Typewriter And Some Big Ideas
The Set-Up -
Nov 22-24 - My birthday. My actually challenge day is going to be with Erica sometime in between our birthdays (Dec 20). However, I do plan on doing somethign very long and hard on my birthday but it's up in the air right now. I like to do it on the actual day, which is Friday, but this could change, especially if Erica and I decide to go out of town. If we don't, I'd like to do an epic day in the Santa Monica's, doing, I think 11 climbs (Ocean's 11) with at least 4200 meters of elevation gain.
If anyone wants in on some of this (or all) I could be persuaded to do it Sat instead.
adieu, Le Steph
The Plan -
Ocean's 11, or Vuelta de Santa Monica
If Frank were a cyclist I think he'd want to do this, which is the athletes rendition of staying up all night signing and drinking Jack Daniels. This is my real birthday pre-birthday challenge, so I'd like to go on Fri, Nov 22.
Plan is to climb more than 4200 meters on my bike and do 11 climbs in the Santa Monica range. The times I've given myself are pretty much random but I think plenty generous to keep the pace leisurely for anyone tagging along (and me dying a thousand deaths).
"I dunno, Bob, I think Edwards is in a bit of difficulty."
"Like Napolean at Waterloo, Edwards is dying a thousand deaths out there right now."
Don't know the mileage but should be close to 150. The climbing will be around 15,000. About a third more than anything I've done.
5:30am – 6:30am – (734m) Leave Saddle Peak and descend La Tuna Cyn to PCH to Topanga Cyn Rd. Up TPR to Fernwood (#1). Climb Fernwood to Saddle Peak (#2)
6:30 – 7:45am – (500m) Descend Schueren to Piuma. Turn around and climb Piuma (#3).
7:45 – 9:15 am – (734m) Descend La Tuna Cyn. PCH to Las Flores. Climb back to saddle (#4).
9:15 – 10:00am – (120m) Descend Stunt to Mulholland. Mulholland, via Malibu State Park grade (#5) to The Rock Store.
10:00 – 10:30am – breakfast break.
10:30 – 12:30pm - (800m) Climb Rock Store switchbacks (#6), descend Kanan to PCH, south to Latigo (#7), Climb to the top.
12:30 – 1:45pm - (460m) Descend to Kanan. East to Mulholland. North to Encinal. Descend Decker and climb Encinal (#8).
1:45 - 3:00pm – (750m) Decker to Mulholland. Descend to PCH. North PCH to Deer Creek. Climb Deer Creek (#9) to Pacific View to Yerba Buena. Climb to summit (#10).
3:00 – 3:30pm – (50m) Little Sycamore to Mulholland to The Rock Store. Break if ahead of schedule or …
3:30 – 5:00pm (600m) Mulholland to Stunt. Climb Stunt to finish (#11) and watch the sunset with a beer and a smoke.