10 - 18
Getting By, With a Little Help From My Friends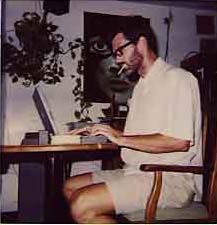 Hi Everybody,
I'm still alive after the debacle with the fritters and my stomach has (somewhat) recovered. Unfortunately, the same thing can't be said about my wrist.
As of today, I still haven't taken a mulligan and this is very much in part to the great support I've received. Monday was a great example. We got a very late start and didn't arrive at the boulderfield until 2 p.m. Sure, this was because Reed had insisted upon going to the Agave the previous evening but that's another story. Since I had originally planned to get there around 10:00 chances for success didn't look too good. I could easily do the 40 required problems but there probably wasn't time to clean that many, since the area has a lot of lichen. Therefore, everyone worked on cleaning problems and letting me have the first ascents of them. We then finished easily on time.
Bob and Reed have been the paragon support crews so far. Reed has taken almost three weeks off of work to be around during my challenge and Bob has put his entire life on hold--well, kind of whole nutha' story there as well, uh hum, but ah anyway.... Without these guys I wouldn't have a prayer. Also thanks to Chris "Normal Guy" Leube and Josh and Angie Fairchild who came through big on the bouldering day. And all of you planning on coming around in the future.
I would also like to thank everyone who's been sending me email. I will get around to responding to y'all but right this moment I'm a little busy. But I do appreciate it. I really do.
So back to the challenge:
We are waiting on some photos to get back and when they do (tomorrow, I hope) we will scan them along with the topo and I will put the new area up for you all to see. There are around 80 new problems and, I think, it's going to be one of the nicer bouldering areas in the West. Most of the problems have been easy, so far of course.
Today I did some sprinting. This is how it went:
I warmed up and then ran a 100 to try and gauge how fast I should run because I didn't want to blow myself out during the first one. My time was 11.33. I thought that I could easily double that effort. Then I ran a 26.8. I couldn't believe it! Something must be wrong. I had even slowed during the end because I thought my time was too fast. I decided to take a long break and re-warm up. Then, as an afterthought I double checked my distance. It was 20 meters too long. Cool.
My next was 22.5. I had remembered 21.9 as my best time but now that seemed wrong because I could have run that today. It must have been low 21's. I cruised the next three in 23.2, 23.8, and 23.9. Bob started to run one with me and pulled up just off the turn with a strained quad. He says it feels better tonight, so hopefully he'll still be able to run the peaks.
I am psyched that I can still run pretty fast. I guess Johnny Gray won the Pan Am games at 39 so it shouldn't be such a surprise, although I didn't think I had enough prep time to get fast again. Well, I guarantee you that the quarters are going to be much harder. After Gray won that race he was asked about running hard at his age. His answer: "Age doesn't mean shit."
And my wrist? Hmmmm. I saw Kevin Brown at Precision Biomechanics today and he did some ultra-sound and other electronic stimulation and it feels much better but it still hurts. It hurts a lot. Last night I couldn't write a diary because it hurt to type. I started yesterday shooting free throws but it hurt so bad I couldn't continue. Still made 29 in a row but it felt like I was shot-putting the ball. I then did my 40 sets of 4 push-ups, pull-ups, bar-dips, and sit-ups. It hurt my wrist but much less and physically wasn't very challenging. I don't know about the rest of the challenge right now but I will continue as long as possible. I won't have a cortisone shot though. I'd rather continue with the pain. Kevin seemed very upbeat. He said if I could get rid of the swelling it might heal very fast. I've iced it four times and been taking anti-inflammatories all day.
So tomorrow looks like I will use one of the days I've accumulated for travel to get ready for the peaks. I think if I make the peaks I'll be happy with the challenge no matter how everything else goes. I'll need great support, and my share of luck.
Thanks for reading. Good night.