11 - 20
Just Another @#$%! Lame Diary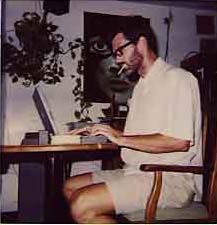 Once again I'm tired and uncreative so I'm writing another lame diary.
Today I went golfing with Casey from GVAC. I borrowed DB's clubs, which got a lot of attention because they look like--I mean, are--something out of a golf museum (as were his tennis rackets). Some guy says to me, "You aren't playing against him with those, are you?" Actually, he was right. I was playing with Casey but hardly against him because he's played more golf this month than I did in the '90's. The day was pretty fun, though rushed because Casey had a bunch of last-minute work dumped on him. I pared something like two holes all day but ... I don't know, it could have been worse. I think I averaged about 110 a round, whatever. I don't really have the temperament for golf, I need my pain and suffering.
Speaking of which, I got plenty yesterday--although it went much better than I thought it would. I felt awful on the first climb but then kept getting stronger. Not really stronger, I guess, just not weaker. I stashed a bunch of food and water on the route and I think it helped a ton. DB rode the middle two of my four ascents up Gibraltar Road. The weather was perfect as well. All and all it was a great day of suffering in the mountains. I heard that Big Tex rode this sucker 10 times in one day. I want someone to confirm this. If he did, I may try it this summer.
Tomorrow I have to do it again and, of course, I feel terrible right now. It's crazy how I flip-flop around to such extremes. I can't wait until I feel normal again. Tonight I think it's because I didn't sleep well last night. Some friends took me out to dinner at some steak place and I polished off a 24oz Porterhouse. I than slept poorly and kept getting awakened by strange dreams. They were old, recurring dreams that play out like action movies. One was about flying and the other about climbing. I won't go into them because they're too strange to try and explain here. They aren't nightmares at all. In fact, I really like them and when I wake up I just want to get back to sleep so they can go on. The problem was that they kept waking me up. Hopefully, I'll sleep tonight because I am really going to need it tomorrow.
Well, I've only got two more days, and they may end up being the two hardest days of all. But I'm looking forward to tomorrow, if I can get some sleep. Tomorrow's entry will be better, I promise.
Thanks for reading. Buenos Noches.