11 - 12
Sports Day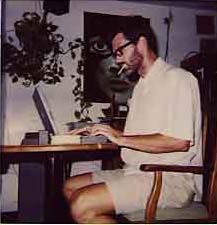 Actually, more like sports weekend. I completed 5 events on Friday and Saturday. Today I went bouldering for training. These were all supposed to be fun events and they were, sort of.
Friday between seeing Kevin and Bruce I had a few hours. I went to the gym and stretched. I was feeling better so I thought I'd dispatch with the 40 free throws. Okay, dispatch isn't the right word. This was an event I expected to go easily and it had been giving me trouble since day one.
I've played a lot of basketball in my life and can usually make free throws with my eyes shut, literally. I only shot twice during my training, for a total of about one hour. The second day I made 40 straight.
Forward to the birthday challenge, week one. I tried to shoot with my hurt wrist. I managed to make 29 straight but had to stop because my wrist hurt too much and the longer I went at it, the worse I got. I tried again a few days later and made 32 right off the bat, then couldn't improve on it. A couple of weeks later the wrist felt better so I gave it another shot during a rest day and did worse. A few nights later, I tried again and did even worse. I was even missing multiple shots in a row. It was crazy because I can not remember this ever happening to this degree.
Since the last two attempts were with a headache, I thought it would be good to try it while my head didn't hurt. I hit my first 17 shots and then missed one. Then I made another 16 and missed. Then it got worse and worse. I would make a bunch and then shoot an airball or something. It was some sort of crazy mental block. I coached players through it and it had happened to me as a player but never just shooting around in the gym. I was getting very frustrated, so I started shooting jump shots from behind the free throw line and pretty soon I had made 20 straight. I didn't think that I could make 40 straight jump shots, so I shot a couple of free throws but I didn't feel near as confident, so I went back to jump shots or set shots off the dribble and hit 40. All in all this was very strange because I don't think I could easily make 40 jump shots again. It made me think that I'm starting to lose it mentally.
That evening Bob, Reed and I played foosball with Dirk DeYoung and Darren Conn from Seattle who had flown in for the challenge...or was it to drink with Bob? The group was well matched and almost every game was competitive. We rotated teams and I won games with every player and won more than I lost, 23-17. Anyway, foosball was fun until I really had to go to the bathroom but couldn't leave the table because we would lose the table. I was dying over the last few games and think I lost the last 7 straight. Believe it or not, I was tired after playing 40 games.
The next morning started with soccer. Dirk was the big star because he had played much more soccer than the rest of us--the same group plus Dave Brainard and Ratso. Scoring goals was harder than stopping goals but I think that just means that we aren't any good. This was about as much pure fun as any event so far.
Next was the tennis. Winning 4 matches was changed to playing 4 because the original line-up of fodder had been whittled down to DB and Reed, and my chances of beating Reed were not good at all. I ended up playing 8 sets of tennis, which Reed said was more than he ever played as a player. DB and I were pretty evenly matched and I think the majority of our games went to deuce. We finished in the dark, which made Reed's serve virtually impossible for me to return, which made the set go very fast--a 12 minute 6-0 win for Reed. For the record I was 2 and 2 and the only love set was the last one, thankfully. This was quite tiring and I developed some nasty blister around set two. By the last set I was gripping the paddle (or racket, Reed says) with three fingers.
Next was bowling. Now I don't know if it was the blisters but for a long time I was bowling terribly, worse than I ever have. Not that I bowl, I almost never do, but still. it has always seemed so easy. But for the first few games I was struggling to hit the head pin. I started with an 86, then rolled an 134 and 139. It looked like it was going to be a long night. I think Reed was getting upset because he rolled over 140 each game. I finally got on track but still had another 13-something where I choked the last frame. Reed insisted that I tape up this blister on my thumb because it was bleeding. The next game was a 193, my best game ever. Again, Reed was the winner 5 games to 3 but I reckon that I may be the only person that has ever bowled an 86 and a 193 on the same night.
Today we went bouldering. I am trying to somehow train because, frankly, I am not going to make either 40 V4's or 400 problems. I think I had a shot at the beginning but I'm so tired and broken down right now I think it's too late. I will try anyway, of course, but to succeed on both of these I really need to be in good form, and I am not in good form. I think I squeak when I walk.
I still don't have a total plan for the rest of the challenge. I need to spend more time at home, wrangling some work. I don't have many events left but those biking days are going to be rough.
I am very tired. In fact, saying "I'm tired" has become kind of a joke around here. "I'm tired too. Tired of all the possibilities of it all"--ahh ... never mind.
My head is hurting again, so I'm going to stop now. Thanks for reading.
.