11 - 1
Super Dave(s)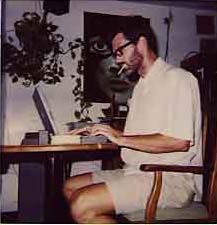 Today went unbelievably well. I started slowly but the further I got from home, the better I felt. I went down to Ventura, which is a very flat ride. On the way down it felt as though I was going downhill and on the way back, it still felt as though I was going downhill. I love it when that happens. At one point on the freeway, I was traveling at 26 mph with a heartrate around 120. The wind from passing trucks kind of sucks you along and you can really fly. There was some wind on the last leg but that close to the finish, it didn't bother me a bit.
I owe a lot of today's success to Dave at Fastrack, and to Dave Brainard. Fastrack Dave (who was an Olympic cyclist and is Lance Armstrong's personal mechanic) gave me a good deal on some ultra-padded shorts, tuned-up my bike once again, gave me some great advice on how to ride when saddle sore, suggested the Ventura ride, and then GAVE me some Metabolol when I asked if he had any nutrition advice. I'm not sure if it was the Metabolol but I felt great and rode faster than the preceding days. DB again rode the last leg with me, taking pulls anytime the wind got rough. Thanks guys!
Another reason that I may have felt so well today is because I'm getting a cold. Often at the start of a cold your body pumps adrenaline trying to ward it off. Since I used this adrenaline for something else, I hope the cold doesn't slam me.
Now that these four centuries are over. I need to take some time and try to re-organize the rest of the challenge. Weather is still an issue. Mammoth is open already, and I don't know the status of other mountain areas. The Yosemite cam shows snowfield atop Half Dome, so that doesn't look too good, especially since there is more rain in the forecast. The wrist is feeling pretty good and I may try it out tomorrow.
Cheerio.