10 - 31
The Tour of Flanders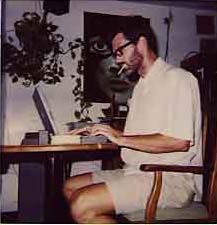 Once again I was too tired to write last night. After I finished I had to go to the bike, grocery and pet store. By the time I finished eating and stretching I was only able to make it through about 10 minutes of Chinese Movie Night before passing out. Boy, did I pick the wrong day to ride alone.
"What is this? The Tour of Flanders?" joked Reed as we rode along beach in the rain two days ago. It sure didn't seem like the Santa Barbara coastline as were pelted by a wicked crosswind and horizontal rain.
Sunday was nothing.
I started Monday morning in perfect conditions. Riding along the beach it was blue and calm, with runners and walkers scattered along the shoreline, enjoying the morning. At Rincon, there was a small swell, calm seas, and loads of surfers. I felt pretty good so I decided to throw in a couple of hills. Nothing big, Rincon Canyon, Toro Canyon, Govsnedor Hill. I was in the hills above Montecito and the weather seems good, a little gusty wind, but nothing too bad. I dropped down to Hammond's Beach, where the scene had changed somewhat in the last few hours.
The ocean was all whitecaps and the sand was ripping through the air, reminiscent of Laurence Of Arabia. The wind was howling out of the west, the direction I was headed. After a few miles in the flying sand my bike started to squeal loudly, so I drove it over to Fastrack Bikes, Dave Lettieri's shop. A three-minute tune up had it runnin' like a champ. Dave suggested sticking to the hills, because there would be less wind.
So I headed up Mountain Drive, which gave me another 1,500 feet of climbing. I've never really considered this much of a climb but it worked me pretty good. Until this climb I had felt like I had good legs if I needed them. Mountain Drive snakes its way along the Santa Barbara foothills. It offers spectacular views, and while the weather may have been a bitch to ride in, it was stunning for viewing. Dave was right because it was gusty, but never horrendous.
I still needed to get out to Winchester Canyon for the final turnaround. This was a 15-mile leg straight into the wind. I knew it was going to be hard. It was. On one point, I was riding up a very casual hill but the headwind was so strong that I was out of the saddle and pumping as hard as I could. I felt as though if I stopped, for even a second, I would get blown backwards. Rain was hitting me under a clear sky. The closest clouds I could see were miles up the coast.
Of course, this wind made my trip home after the turnaround a fast and casual affair ... but I'm worked.
This ride took nearly 7 hours, as opposed to the normal 6. Since I was alone I got to spend a lot of idle time thinking. I was mostly thinking that the four 10,000' climbing days might be the hardest, most painful days of my life.
This morning--and last night--my heartrate is really high. There has been a cold going around and, so far, I'm the only one that hasn't got it. I also could be overtrained but have no idea how that could be. Anyway, I'll keep my fingers crossed.
By the way, my thighs feel like lead. I wonder if this is a bad sign?