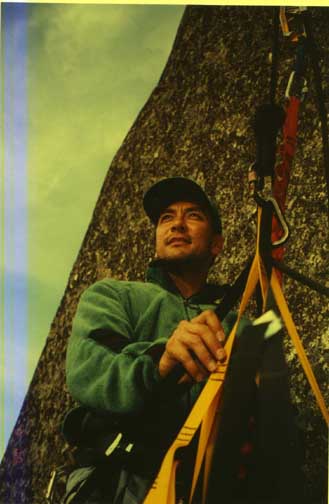 Day 2: Neither Rain Nor Wind Nor ...Wind?
Diary for 4/19, day Two of the Epic Challenge

Typing hurts. This will likely be brief.

Today I, with the backup of a small but mighty force of Challenge
supporters, ticked all 40 routes. The wind became a major issue later
in the day, easily gusting 40-50 mph continuously. It was a constant annoyance and threw me off balance many times.

I unexpectedly led about half of the routes I climbed, and there were harder problems overall than I was expecting (many 10b,c grades). I didn't track route names, just grades and areas and whether I TR'd or lead the route. Basically everything from mid 10's down in the greater High Desert areas.

Some stats

First blood drawn- Route 9

First lead fall- Route 19

How far the wind took my hat before touching ground- 150 feet

Most fun climb- one of the early 10's at BMX area

Least fun climb- everything at Lucerne Limestone (18 climbs), cuz it was good but the wind was just merciless.

I'm a little nervous about the Ski Challenge tomorrow. I'm hammered.

Thanks to the encouragement of my coach Manny and the team of merry
climbers helping to scout routes, hang topropes, give me their energy
bars, and make it a special day to remember. Anyone who says climbing
isn't a team sport is either soloing or clueless. Hmmm, fine line there.
Sleep, got....to....get.....sleep....

Day 4: ... Part I
Diary for 4/21, day Four of the Epic Challenge
Finally some good sleep and a good breakfast with the family started me off on a day of challenge that went very smoothly. The Bowling challenge went down without a hitch, thanks to Dad's coaching. Seems bowling is like riding a bike; take 20 years off, still know how to do it. Scores were 141, 170, 180, and 159 all in a row (warmup game was 109, that was a little sketchy).
Next was the songs, drinks and fritter challenge; these were simul-events and were mostly fun (except the fritters, which were grim and finished as the final few seconds ticked away). I even led the troup in a resounding ballad of the "Birthday Challenge Blues". Great musicians and good friends made for a memorable evening. Lots of Dylan , Van Zandt, John Prine and such folk.
With the skiing and climbing out of the way, I'm focused on the football challenge; that one is somewhat untested and pretty ambitious. My quarterback friend Mike can deliver the ball easily at 40 yds, the question is can I link 40 catches...
To make this event even more interesting, Kenji will have very little time to train.

Tune in shortly for his observations on this fact and, if he has time, some diary entries as well...

Day 1: The Happiest Place on Earth

Number of potty breaks- 2.0

Number of tear-drenched breakdowns- 4.0

Maximum distance between kids at one time- 50 m (conservative estimate)

Average total weight of kid paraphernalia - 67 lbs

No. of bribery toys/treats purchased - 6

Total dollars spent- Too F@#&*! Much

Total Hours spent Solo with 4 kids 4 and under (OK, I had two 5 year olds, but I had a 4 month old too)- 4.1 clean solo, 5.5 hours with one bf sesh

Day one is done. And it was even kinda fun. The fact that the place was packed played both with me and against me... longer lines consumed more time, but when Phillip took off, it was much harder to track him through the crowd.

Tomorrow the real work begins. 40 pitches, basically 40 routes on rock. Better get some sleep.

Day 3: ... Nor Snow

Diary for 4/20, day Three of the Epic Challenge

The Skiing Challenge. Looked grim early on, since the Bear Mtn. ski area opened 1/2 hour later than planned and closed 1/2 hour earlier. I was hammered from the climbing the previous day and didn't sleep enough. I had already figured this to be the most difficult physical challenge, but this start was feeling gloomy. To make matters worse, I only had one cup of coffee...all day.

We had picked a high speed quad with 1310' of vertical drop. That meant 31 runs in 7.5 hours, or an average of 4.2 runs per hour... certainly more than I've ever done. The first run confirmed my fears, I was burning already and I had 38,700 vertical feet left to ski! But one glance at my watch lifted my spirits... the downhill run took only 2 minutes, 50 seconds! With that time we could do 5 runs an hour and make the challenge....all I had to do was keep up the pace.

And yes, we did. Big props to my support skiers Jeff and Tyler, they fed me, kept my spirits high and made the whole thing super fun. We totaled 41,920 vertical feet in 32 runs. We finished well before the resort closed, around 3:15pm. I only fell 3 times, none serious, which is remarkable considering the changing conditions from bulletproof hardpack to mashed potatoes in a matter of minutes. Oh, and this challenge was completed solely on telemark gear, the only thing I'll ski on. I did stash my pack after run 22, until run 29 when I picked it up again. I'm very happy with the challenge to this point, and I believe I have completed the most physically demanding aspects.... it's certainly not over yet. Stay tuned for day 4.

Day 4: ... Part II: Challenge Accomplished!

Diary for 4/22, day Four of the Epic Challenge

Today was the final day of the four-day, 40th Birthday Challenge. The Football challenge and bouldering challenge were the final tests to pass, the last guardians to the portal of Birthday Challenge immortality and I had until 4pm until my 96 hours were to expire.

Steve had expressed endless faith in me performing most all of the challenge tasks I set out for myself...but the football challenge, that was different. I could tell by the look in his eyes, the type of questioning, that Steve was very concerned about this challenge. I set out to not only catch 40 passes, but do them consecutively while running patterns. And a 40 yard pass is no picnic even while standing still.

The key, of course, was to (once again) have the right players on my team... in this case, a quarterback coach named Mike McKay, one of my oldest friends and my old partner from back in the football days of CCHS and the CIF championship. Mike has an unbelievably accurate and powerful arm, and he was my ticket to success.

We met at Lindberg park, one of our old haunts, and got right to it. First dropped pass came at no. 6. Bad sign. Next I made it to 16. It was looking like it might be a long day...

Then something clicked and we started in a groove; at 25 in a row, I took a break to get some water and restore some energy, after all I was still very sore from the skiing and climbing (and drinking). Steve and Brian showed up at that point, and video was running. The next 15 went down with only one near drop, a high overthrown (actually I was just under-running) pass that required airborne bodily sacrifice. Just enough to make the video interesting. We stayed awhile longer and played some light passing game, with Steve running patterns and myself defending. Overall it was an exciting trip down memory lane to a time when Mike's arm and my hands were best friends.

The Bouldering Challenge was started last night, between song sets, so I came into today with 16 under my belt. The wall I have is short (11 feet) but it's quite steep; 30 degrees overhung first panel, tipping back to 60 degrees on the second, and backing off to 30 again at the top. This makes for a rather tips-grinding affair on top of 40 routes three days ago, bowling 5 games, and playing 40 songs on guitar and bass. But with the help of Steve and Footix (the soccer mascot of France, don't ask), the problems went down in a blaze of glory. Challenge complete!