Waking up before 6 AM isnít normally in my thought process for a Friday that I donít have classes. A pink mohawk and three apple fritters seemed to change things a bit. Tony walked in at about 4 AM to wake me up and I wanted to throw a table at him for the first few seconds, not realizing what day it was. I got up, put a fresh shirt on, and marked it off on my challenge roster outside of the door. I got myself all ready in the bathroom and for the first 5 minutes or so I didnít realize that someone else was in one of the stalls. He was just sitting there all silent and motionless. So I decided to see how long it would take for him to move. I grabbed the hair gel and spray and started going to work, turning the frohawk into a mohawk. About ten minutes later I had it standing up nicely.

I punched out the first set of 20 push ups and sit ups and my pink mohawk was already turning back into a frohawk. 20 minutes later, the anonymous toilet man was still there.
As soon as I got down the steps, Tony burst out laughing at my matted down kinda crunchy mohawk. It looked almost exactly like Jay Navarreís mohawk from the Suicide Machines, except a little bit curlier, and pink. At about 4:30, I started out on my first run of the day. It felt good to be running around at 4 AM on an empty campus. The entire town was covered in fog, making it feel really surreal and dreamy. After the second lap, the dreamy feeling ended as pain started to set into my right ankle. While in Southern Illinois over spring break I had almost snapped my ankle coming off of Arete Syndrome.

It started to swell and the fun began. Actually, maybe some of you can answer me a question. On our trip to So Ill we found an old kids atlas and decided to take it. It even said that it was going the be ďmaptacular funĒ. How could we refuse? One of the games was road bingo and we had to find a squirrel. How come, on a 9-day long trip where we drive over 1000 miles we only see one squirrel, and itís dead? But on one lap of running on my birthday challenge I see 8 squirrels in a matter of 5 minutes. All I want to know is if the squirrel hunting in Illinois is that much more popular than it is here? Oh well, back to the challenge.
With both of my ankles taped up I told Tony to go grab a fritter and another t-shirt when he got the chance. When I got back, a fritter was smiling at me. I downed half of it, put on a fresh shirt, and kept going.
It couldnít have been more than 50 feet out the door before the fritter struck back. It just seemed to sit there while I ran, just pounding away at me. I made it back to the dorm after doing 4 laps and I figured Iíd take a quick break, eat some fritter and drink some water. I had already gotten 2 nalgenes in me in a matter of 3 hours, but I could already tell that it was going to be very hard to get that one done. So, I just sat down in the lounge and started the second half of the fritter and the next two nalgenes. That was the most boring part of the challenge since I had no support. I was tired as all hell and the fritter was starting to make me feel like crap.
I think I was in the lounge for a good hour or so just doing push ups, sit ups, door jam pull ups, and downing the fritter and water. People were just starting to wake up and get ready, so I decided to go do another lap. I ran part way but my ankle had become way too swollen so I decided to walk it. Just as I was getting back, Danthird and Megan walked by and talked for a little bit. I guess I looked like I had been run over by a train. They both told me later that they thought that there was something actually wrong with me, like a broken ankle. They were both pretty worried.
As I got back more people were waking up and leaving for class, so I tagged along with a few people each time and the laps started to get done. One fritter was done and on the 7th lap, I finished nalgenes 4 and 5. It was goin well.
I got back and started on the second fritter and finished off the door jam pull ups. I was very happy to have that part done long before I had to start climbing. My fingers were kind of tired, but were in good shape and should be fine for the climbing and buildering. On my next lap I checked at the stout gym to see when I could come in and run. To my dismay, they were closed all day long. After a few choice words I left to check when the climbing gym would be open: 2-6 like always!! I was pleased as could be. The mohawk was getting all sorts of odd looks (jealousy was my first thought). As I was going back to Wigen, I saw Brian of Brian and Schoobs. At first he didnít recognize me, but then we both agreed that I was the coolest guy on the planet at that moment. Good times.
When I got back I began bouldering Andyís loft. My arms were getting surprisingly pumped out so I decided to stop for a bit after 6 laps. That caught me off guard and I sat down and ate some more fritter.
On my next lap down to HKMC I saw Schoobs, of Brian and Schoobs, and good times were had once again. I made it back but my legs were killing me and I had lots of other challenges left to do. Tony pushed me down the hall a couple times on a skateboard for my skeleton races, which hurt a lot more than I had anticipated. We had to use a tiny skateboard for it since we had lost the skateboards that we permanently borrowed from a couple of kids last year. Everyone went to lunch and I polished off the second fritter with an hour to rest up before the climbing.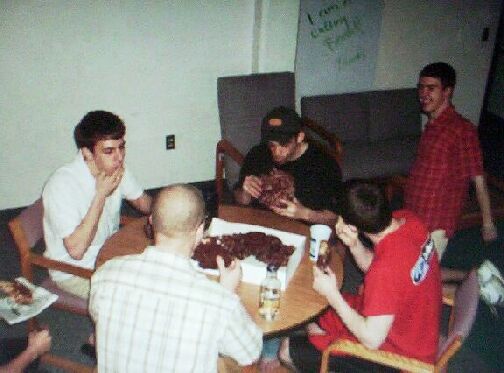 This brings me to the first highlight of the day. Apparently, the day of my challenge was family tour day at Stout for new students. I was pleased since they were bringing all of the kids through Wigen Hall. Dave, Tony, Danthird, Luke, and myself decided to put on a concert for them as they walked by. Tony was on his bass, Danthird and myself were on guitar, Luke was on the banjo, and Dave was singing and playing the cup. It was fun for all since we were each playing a different song and Dave was doing some sort of opera man impression. The kids seemed to enjoy it, the parents, however, didnít seem to appreciate our skill.
On to the climbing. Probably the second hardest challenge after the run/walk. I decided to stick to 5.8 and under since I was going to be doing more routes than I had done in a long time. Tony had decided to do this part of the challenge with me and the excitement ensued. I got into a rhythm of doing 2 or 3 routes and then going over and doing 2 or 4 middle finger pull ups. Everything was going well for both of us until we hit number 15 or so. We had been there for 2.5 hours and it was just killing us. I blasted off the final 6 middle fingers and punched out the final 5 routes. The boulder problems were somewhat of a joke but it made for a lot of fun. Tony still had to do 6 so he decided to do up and down laps on a juggy 5.6. Tonyís lifelong goal is to pioneer down climbing as a separate facet of climbing. He finished off the routes with ease and we headed back for the fritter extravaganza.

I brought up a few extra fritters so that we could have our own little fritter challenge. We started the time as I sat in pure enjoyment watching Danthird, Tony, Danfourth, and Moj try to finish the fritters. A couple of them had been giving me crap for only doing three throughout the day so it was a pleasure watching them hurt. This was, by far, the highlight of the day for myself. Danthird did a wonderful job finishing his fritter in 7 minutes flat. Tony was close by with 7.5 minutes. Danfourth had eaten dinner a half hour before the challenge so he fought to finish in 30 minutes. Moj failed miserably. Not even finishing the fritter before he wanted to throw up. Every single person in that room gives the utmost respect to Jacqueline Florine.

The night went fairly quick, completing the 20 t-shirts and the 20 songs. I listened to the compilation album short songs for short people and it all worked out alright. We were able to do 9 more skeleton races before my entire chest started to bruise. I was able to dyno mojís loft all 20 times but it took almost all of my energy to it. I went back and bouldered andyís loft for a total of 18 times before the third fritter won its battle. I was able to get 10 nalgenes of water down during the day, which surprised me because I wasnít expecting nearly that much. The laps down to hkmc and back turned out to be 10 total. We found out the next day that it is exactly 1 mile each way so I had ended up walking/running 20 miles. For someone that doesnít really ever run, I was happy.

The challenge was a success to me. To most it looked like I had failed miserably. I remember looking at your site for the very first time when I was 17 or so. I read from someone that if you complete your challenge then it was too damn easy. Other people didnít understand my viewpoint but oh well. It was an amazing time and I got to have a mohawk. Oh, and the next day when we shaved it off I had a bright red racing stripe down the middle of my head.

Good times

Steve Schultz