The Best Ride In The Santa Monica's!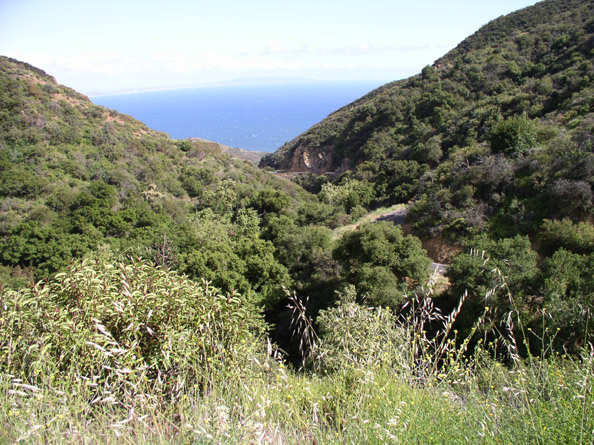 On August 14, 2005, I wanted to spend about 6 or 7 hours riding to gauge how my Everest Challenge training was coming along. Tired, as I'd had a long day prior, I had a lazy morning trying to psych up by reading the live report from the Clasica de San Sebastian . Still without a true plan, I loaded my bike and headed towards the Santa Monica's.

I'd always wanted to try Peter Pop's El Muertito ride. With 5 trips up Saddle Peak and more than 10,000 of climbing, it would suffice to test my fitness, that's for sure. But somehow this ride lacked elegance. After all, this is not Nam, there are rules. This is bike riding and point to point is always preferable over out and back. Sitting in traffic on PCH, I began to concoct an alternative plan. No stranger to long rides in the Santa Monica's, I decided a quick check list might sort it out:

likes: climbing, descending, sun, warmth, good pavement, mountains, panoramas, quiet, Topanga, hippies, snakes, dogs, spiders, peacenicks, beer.

dislikes: PCH, traffic, noise, stop lights, car horns, car doors, bad pavement, crowds, "coastal low clouds", Malibu types ("Jackie Treehorn draws a lot of water in this community. You don't draw shit."), Hummers, "truck guys", making u-turns.

Heading up to Saddle Peak I thought of a loop ride that would tick Pop's and add some new scenery, as well as a satisfying downhill finish a couple of minutes from cold beer. Like Johan Bruyneel once said, "The Plan was very simple. Making it happen was not so simple." Nice idea. Now I had to ride the sucker.

Part I: The warm-up. I parked at the top of Fernwood at the junction of Saddle Peak and Tuna. Warming up riding the easy grade to the summit, my legs felt really good, which made no sense given the day before (wait, that's today!) and that I was running at 1:30AM.
Part II: The test. At Saddle Peak, I descended Stunt, left of Mulholland, left at Cold Cyn, left on Piuma. Piuma's pretty easy but the longest climb of the day. It would be a good gauge. At the top, feeling good, I descended Rambla Pacifico, taking the detour to Hume, down to Las Flores. I turned left at LF. It would be harder to go down and U-turn b/c you miss the first half of the hard bit of LF, but I wanted to keep U-turns to a minimum as style is everything. LF is very steep here for about a mile before easing off. No problems, which was a very good sign. Right at Rambla Pacifico, right at Schueren, back to Saddle Peak. The weather was perfect, roads virtually empty. It's, like, Nirvanna.
Part III: The detour. Down Stunt again, this time turning right at Mulholland and abandoning the El Muertito, then left at Dry Cyn/Cold creek. Climb "7-Minute Hill", which is easy but takes longer than 7 minutes (I think that's the record). At the top, I filled my water bottles behind the guard shack across Mulholland and headed downhill to Old Topanga. Turning right on another section of Dry Cyn/Cold Creek, then right on Old Topanga, and I was on to climb #5. This climb feels like a real climb, is pretty steep, but always seems to go easy. As a reward you get to blast down Old Topanga Road, which is always super fun unless you're being chased by "truck guys" ("outta my way you muthafuka! woo-hoo"--high-fiven his buddy and takn' another hit off the gas can). Thankfully, though, Topanga filled with more peaceable types. Right on Topanga and you spend about a minute in the only traffic you'll encounter. And it's hippy traffic, so it's not too bad. Right on Fernwood. The bottom of this climb is quite steep, the road narrow, tree lined, and the traffic gives one a very real sensation that you're riding in Marin county. The peace signs add to this. Soon enough I was back at the car and refueling.
Part IV: Big Tuna. By far the most difficult climb, Tuna can even be scary to descend. This was my one U-turn, but given Tuna is illegal to climb (a one-way street), I'm happy to get on it anyway I can. I descended to the end of the good pavement--just before PCH--as to not 1) be spotted starting to ride up, 2) avoiding any contact with PCH, 3) avoid riding on bad pavement. Had to keep the ride perfect. Anyway, Tuna really starts at the hairpin. The first mile is rugged! I started to cramp here, forcing me to employ proper form and breathing technique as opposed to riding minless. This climb is so hard that I thought about not finishing the ride for a minute. Again at the car, I re-filled my bottles, stretched out a bit, and headed off back up Saddle Peak.
Part V: The best place in LA, twice. My second trip up the 'warm-up' was not nearly as effortless. At SP, I descended Schueren, turned right on Rambla Pacifico, and climbed the back side of Piuma. While short, this climb is not easy, especially at this point in the day. Then I got to descend Piuma, which is another stunner. Right on Cold Cyn and I'm climbing again. Whilst not hard, Cold Cyn has a short wall at the end that was a bit of a leg breaker. Right on Mulholland, finish cresting the hill, and back down to Stunt. Stunt is pretty easy--a slightly shorter version of Piuma. Not too steep but, like Piuma, the last 3k are the hardest. I sprinted at the top and was still feeling okay. Strange, I thought, but maybe spending the previous day at 8,000' had increased my hematocrit levels.... umm, right... Anyway, Saddle Peak is my favorite spot "in LA," mainly because it doesn't feel like LA one bit. All rides should end here.
Part VI: The reward. Actually, all rides should end on a downhill after a perfect summit. I cruised back to my car passing a snake, tarantula (what can I say, I like critters), some friendly dogs, and a couple of cute chicks out hiking--it was like I was being offered a reward for my penance. As it should be, at least in my idealistic world. I cleaned up and drove down to Abuelitas for a brew and some carnitas. As Papa might have said, "I rode my bike. And it was good."