10 - 29
What Would Noah Do?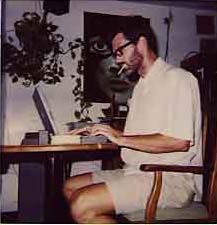 I'm writing this in the morning. Last night we went out to eat and I went to sleep as soon as I got home.
It's friggin' raining again. This is getting ridiculous. It just doesn't rain here in the fall. I got a message from Louie Anderson the other day saying that if this rain kept up I should just build an ark and start collecting animals.
Yesterday was the first century. I woke up with a terrible headache and my heartrate was 20 beats a minute higher than when the challenge started. I was pretty worried that something was breaking down or I was getting sick. However, the longer I rode the better I felt.
I rode a short morning session to get some coffee and warm-up, and let Reed and Dave sleep in. Then they joined me for the first 40 miles out and back. I choose out and back rides because of the threat of rain but the weather was beautiful. Dave had to go to work, so Reed and I went out for another 30-mile loop before returning to grab Bob for the last, short section.
I felt great most of the day, really strong. A little saddle sore but that was to be expected. At the end I blasted up a short hill in my big gear and had plenty of legs left. I used a heartrate monitor for the first time. They seem like a great training tool. I spent most of the day in the 130's. My high was 177 on one hill that I kind of sprinted. Most hills only went into the 160's. When I was getting pulled I was able to go down around 120, which really feels like resting. Now I can see how the stage races work. Pulling all day is hard work. I think domestiques should get more respect. Christ, guys like Andreu get to pull all day when it's flat, then get to sit up and rest on the mountain passes, which can't be a rest no matter how easy you ride them. It's a rugged job with almost no glory, except that you get to ride your bike for a living.
So today is going to suck, or so it seems. It's totally grey and very wet and I don't have any riding rain gear because, frankly, when it rains--which used to be rare--I don't ride.