10 - 25
Learning When To Start Drinkin'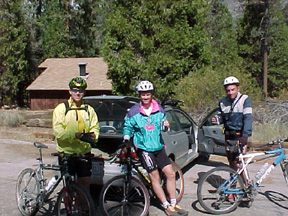 Sorry these have been infrequent lately. It's hard to write when I'm traveling because I don't always have Internet access and when I spend a few hours driving I start running out of time and energy.
I am starting to feel like this guy in an article on the Tour de France that I read in the early 90's. This rider, I don't remember his name, wanted to do the Tour without drugs. He wouldn't let the doctors touch him. After three days he could barely move, so he allowed the doctors to give his a vitamin B shot. Two more days and he resigned to allowing the doctors to do whatever they thought was necessary. He didn't ask to know anything and quit racing the next year. Anyway, I don't have a doctor but I'm starting to get more and more tired. Each morning I feel like I could go back to sleep until the next day.
As you may have surmised from the news, things are not going according to plan. The wrist has finally become an issue that I can't get around. I failed miserably on the boulder problems and was, once again, able to salvage the day by doing a bunch of sit-ups. However, just because things aren't going to plan doesn't mean they haven't been fun, or without highlights.
The bouldering day was a bust early. I could tell warming up that it wasn't going to go well but I tried anyway because you never know for sure. Bob and Reed started well and Bob decided to try and see if he could do 40 V4's, since it has probably never been done. Reed said that if he could do half he would be ecstatic.
Bob ended up doing about half. He thought he could maybe do 40 with careful planning and a whole day to work with. My thought's exactly. I hadn't a prayer with any kind of injury. Reed started having trouble during the second half of the day but gamely kept bouldering. He quit a few times, then would watch Bob try something and boot up and give it a shot. Near the end of the day, he was trying to help Bob work on a problem he was having trouble with. I was doing sit-ups, so I missed most of the fall but I did see Reed come tumbling into view, quite a few feet from the route he was trying. Bob had missed the spot and came over to see if Reed was okay. He started to apologize but Reed--completely pissed off--said "It wasn't your fault. I don't even know how to use my feet!" He then pulled off a shoe and threw it at the rock. "Hell," he then muttered, sort of to himself, "I don't even know when it's time to start drinkin'!"
So now we have a theme for the rest of the challenge, when to start drinkin'.
The sit-ups weren't too hard but they also weren't easy. I started late, of course, and didn't finished until a few minutes before midnight.
The next day was our mountain bike ride. I had only done one day of single track in my life and Reed picked out a ride that was featured in Bike Magazine as one of the best single track rides in the state. That turned out to be no exaggeration as Dave (Brainard) said it was one of the top ten he'd ever done, and he used to race and has ridden all over the country. The featured ride was only 12 miles and we needed 40. Reed knew how to extend it. The mag said something like "Extend your arm to your left and you can grab dirt off the mountain side. Try this to your right and the next thing you'll grab is a pine tree 60 feet down." Reed said this was the easy part. He wasn't kidding.
The last third didn't leave much margin for error. Lose the trail and you'd most likely be tumble a few hundred feet through manzanita and yucca's. It wasn't extremely technical (but what do I know, really) but was technical enough that I felt the need to keep a foot out of the peddle for much of it. The track was narrow and unstable.
I would like to thank Dave Guttman for the use of his bike and Aaron Baker for the shoes and peddles.
Overall the ride was great, the BEST single track ride of my life--and that's sayin' something. It made me want to get a mountain bike. I think I could have ridden it in better style but, given the lack of margin for error, I rode conservatively. I was much better on the climbing then descending but that would figure. I had a few, minor crashes. Nothing too bad. Funny thing is that I got the peddles from Aaron, who didn't like them because they were hard to get out of. Every crash could have been avoided could I have gotten out of the peddles when I wanted. I guess the selling point is that you can stay in them when they are muddy. Oh well, beggars can't be choosers. I think they're the best peddles I've ever used.
Ironic thing about this challenge, so far, is that I'm doing good on the events I was worried about and bad on the one's I trained for. Go figure.
I am finally going to have to consider this wrist thing a major problem. I can't work around it much longer. What used to be glorified rest days, like bowling and home runs, are now big problem days. The climbing is all impossible if I don't heal up.
But there is still suffering to be done. Here is the plan as of right now:
I will re-adjust the schedule to avoid major wrist stuff, keep the rehab going as re-evalute after the bike. This means the big suffering, the bike stuff, will start this weekend.
I will now take more real rest days and try and combine the rest day sports when I can do them.
My hope is that I heal and will then get to use the next full moon for some climbing events.
In the back of my mind, I even hope to get another shot at the 40 peaks before the snows hit.
It's supposed to rain this weekend so, hopefully, it won't be a big enough storm to close the mountain roads for the winter.
Thanks for reading. Tomorrow the quarters. Yikes.