Ultra Bunny Birthday Challenge 2007
Last year I ran 36 miles on my birthday. This was the farthest I had ever run and at the time, I had no idea if I could even do it. Not only did I complete the 36 miles, but it wasn't that bad--so I added a 50-mile race two weeks later, which did the trick. I have since been trying to find my limit at running and other sports. For this birthday I'd run my age again, but also add a few things to make it more interesting and challenging. I also decided on a "bunny" theme, in honor of Easter weekend. Here's what I came up with:
37 boulder problems
3,700 yards of swimming
37 miles on the bike, with 3,700 ft of elevation gain (Figueroa Mountain)
37 miles of running, while tasting 37 wines (as poured by the winery)
Eat 37 peeps
Day 1
<![if !vml]>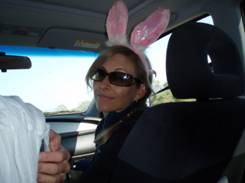 <![endif]>I have 24 hours to complete the challenge. At 4:30 on Friday, April 6th, we head out to Red Rocks for some bouldering. The plan was to leave the kids with Cassie, but she hasn't made it back from San Diego by this time, so the kids are coming with us. That's okay, I am just anxious to begin at this point.

<![if !vml]>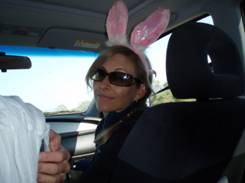 <![endif]>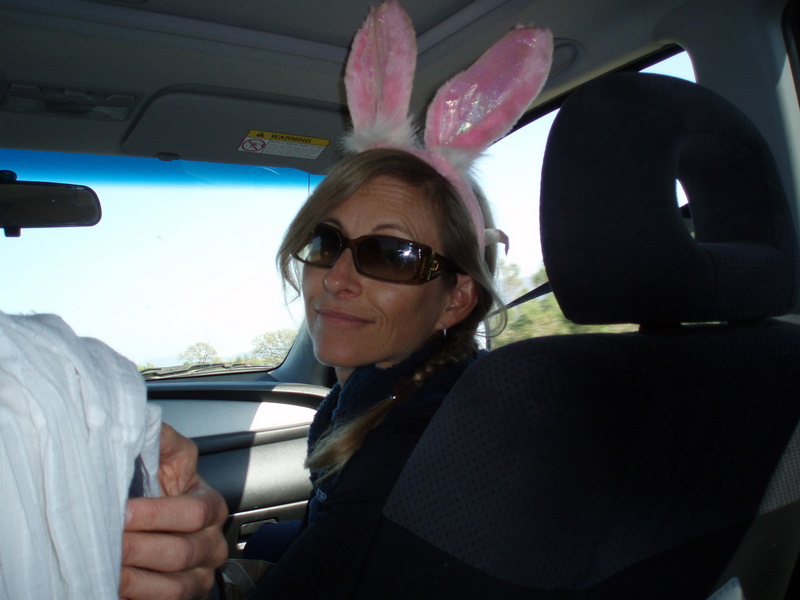 We reach the parking area a little after 5:00. I leave Steve to deal with the kids and start jogging out to the boulders. I am ready to begin by the time they find me and the challenge is officially underway at 5:17.
I make Calvin the official photographer, but he quickly tires of this job and passes it to Abs.
<![if !vml]>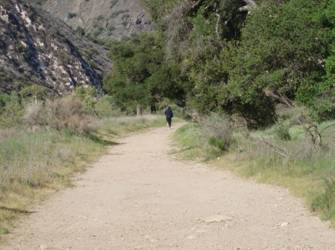 <![endif]><![if !vml]>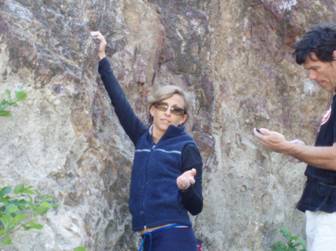 <![endif]>
Even with kids in tow, this part of the challenge goes really well. It is getting windy and chilly near the end, which makes it easier to speed things along and finish up. I couldn't have done this part without Steve. He is sick, but totally rallies for birthday challenge. Of course.
<![if !vml]>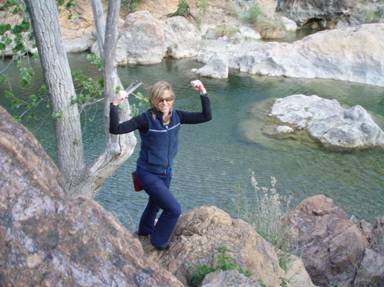 <![endif]>
We are off to the YMCA pool. Steve drops me off at 7:00ish and I am swimming by 7:15. I'm not at all sure how long 3,700 yards will take me. We're about an hour behind already, but I tried to be generous on my swim estimates. To avoid having to swim more tomorrow, I'm going to have to swim fast.
I am the only one in the pool on this lovely Friday night. I am cold, but keep swimming, only stopping once to drink some water. I average 60 seconds per 50 yards and finish ahead of schedule. Yeah!! I even have time for a hot shower before the Y closes at 9:00. I put on some running clothes and meet Steve in the parking lot, all smiles at having finished all the swimming tonight because getting back here tomorrow wasn't sounding too realistic.
I throw my backpack in the car, don a headlamp and start running toward Solvang for my first tasting. It took some effort to find a place that would still be open this "late". Steve goes ahead to order the wine and make sure they don't close early which, this being Solvang, they were just about to. Bob meets us for a glass of wine on his way back from climbing. Cheers!
<![if !vml]>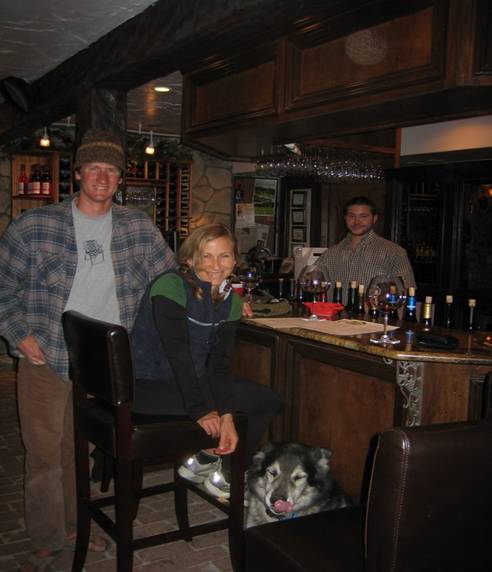 <![endif]>
The bartender, Bobby, pours us a couple of extra tastes, in honor of my challenge. This makes 8 tastes of wine for day 1. Now all I have to do is run 4 miles home, buzzed, in the dark at 11:00 at night. Woo hoo, I'm gonna put a few peeps in my pocket for the run.
When I am almost home, Steve pulls up alongside of me in the car and lets Phoebe out so she can run home with me. She trots down the road with me for a few steps than runs back to the car and wants to ride home. She know there is something weird going on and want no part of it.
<![if !vml]>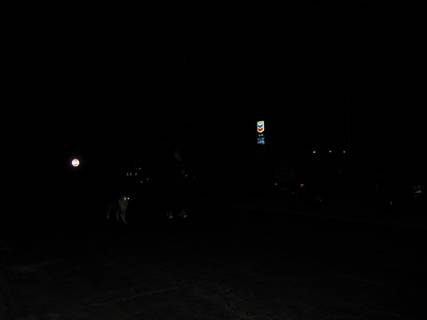 <![endif]>
Day 2 or Shit shit shit shit shit…. My alarm didn't go off.
So, instead of getting on the bike by 5 am, I wake up in a panic at 7, slug some cold coffee and head out in the fog by 7:15. That's okay, at least I set the coffee the night before and even though it had already turned off and was cold, at least I got some coffee. This is April 7th, my actual birthday. I wasn't gonna let a little thing like an alarm glitch ruin it. Ha!
I don't see a soul for the first couple of hours of the ride. I'm not in very good bike shape, so this climb is pretty hard for me. I just keep pedaling. I keep thinking, "how the hell am I gonna run 30 miles after this?" Then I remember that it's my birthday and I can access my super powers most effectively on this day. I get to the dirt part of the road and careen from side to side as my wheels get caked with mud from the dampness caused by the fog. This really isn't very fun.
<![if !vml]>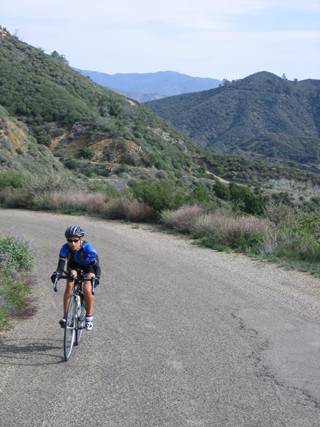 <![endif]>
Finally, I see a car and its Steve and Phoebe. Steve reminds me to drink more water. Not drinking enough is a bad habit of mine. Water, that is.
I continue to the summit and enjoy the fast descent down Figueroa Mountain. I am looking forward to the final task with mild trepidation.
<![if !vml]>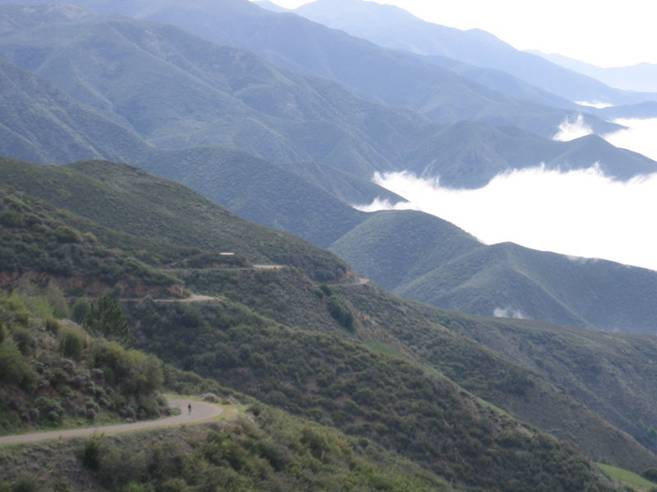 <![endif]>
I've run 7 miles and tasted 8 wines so I have 30 miles to go and 29 tastings. Yikes. Oh yeah, and about 35 peeps.
Steve has the transition ready near the end of Figueroa Mountain Rd: towels, running stuff, hydration, nutrition and, of course, a smorgasbord of peeps. Yellow peeps, pink peeps, cocoa peeps…. My stomach is turning just thinking about it. I change into my running shoes, grab my water bottle, a few peeps and begin the run.
<![if !vml]>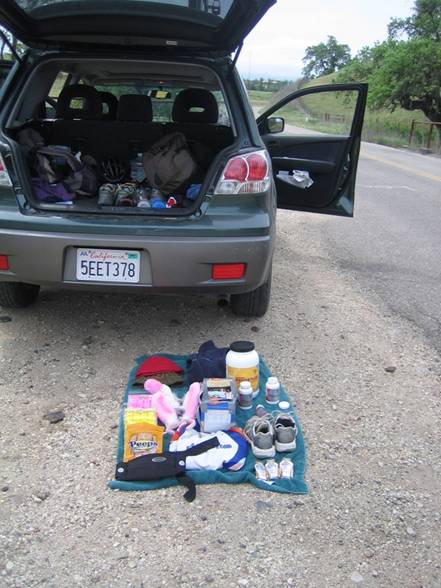 <![endif]>
I head towards home where I plan to change into more appropriate running clothes, use the bathroom, etc. I am wearing the bunny ears now and seem to be attracting a fair amount of attention. Okay, I'm starting to have fun again.
I reach my house 6 miles or so later and change into running clothes. Next on the agenda is Kalyra winery. I'm feeling better than I expected after the ride. Steve has forged ahead to handle the wine tasting so I can run in, taste, and run out. I notice a lot of people trying to figure out what the hell it is I'm doing. After Kalyra, it's about 5 miles to Lincourt, the next winery, where I will be joined by Cindy and Emily (with Zach and Ashley). I'm a bit loopy leaving Kalyra, but it wears off after a couple miles and a few more peeps.
<![if !vml]>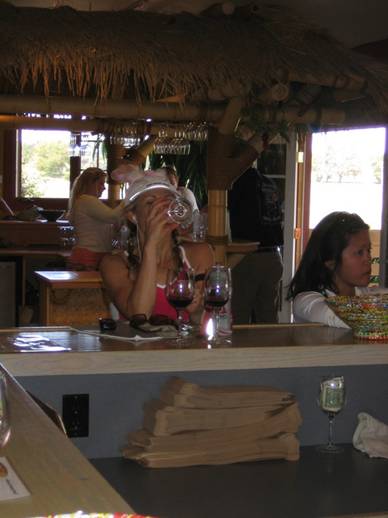 <![endif]>
Lincourt is quite pretty. I am greeted once again by my man and a glass of Chardonnay. I was trying to stick to red but some places have set lists of tasting that you can't vary. This is serendipitous change as it is pretty warm and whites go down easily. Cindy and Emily show up and we relax a while on the grass (wine and peeps, yumm) before I'm off. I'm craving a turkey sandwich, which Emily will have waiting at the next tasting room.
<![if !vml]>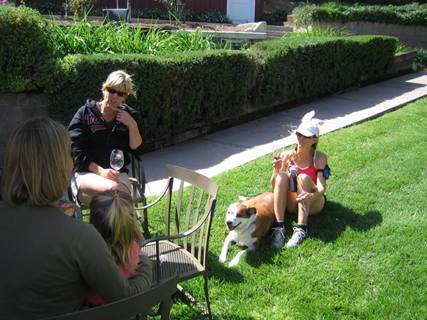 <![endif]>
The next few miles follow the same pattern; running buzzed only to sober up after a few miles. Peeps, as disgusting as they are, actually seem to aid the process. By the time I hit Los Olivos, I'm feeling ready for more wine.
This time, more people show up. Moira and Steve (with Vue) are there and Tim arrives. My turkey sandwich is waiting, mmmm. I have to do a 1.5 mile loop several times because the girl (a friend of Emily) at Andrew Murray is stoking us. I run a loop, eat some peeps, drink and socialize. Repeat… Finally, Andrew Murray is closing and we're forced across the street to the worst winery of the day, Arthur Earl. A few more—weird wines poured by an even weirder woman--tastings and I'm off towards Solvang to finish where I began, at Tastes of the Valleys.
<![if !vml]>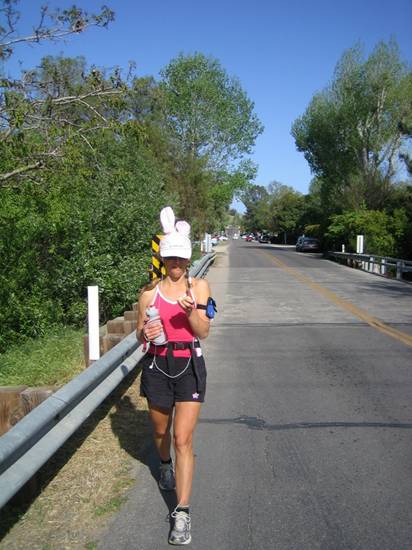 <![endif]>
Til now, things were going remarkably well. This was about to change. I find myself about 5 miles from the finish, cold, tired, kinda drunk, and completely out of energy. I'm afraid I can't finish. Suddenly, things seems desperate. I consider calling Steve, who'd gone ahead to buy burritos for the finish. It's a dark time and if it wasn't for the Beastie Boys Sabotage coming on just at that moment, who knows. Suddenly, I am revived (maybe the Hammer gel helped, too), and I feel great as I finish strongly up the hill into Solvang. I have a short loop to do around Solvang to complete my 37 miles. Apparently, Steve had announced the challenge to to patrons of my destination and some woman I don't know is standing at the finish clapping and cheering me on. It's awesome and I feel like a rock star (not really). <![if !vml]>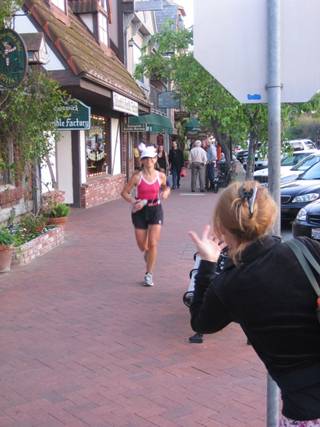 <![endif]>
I have completed all but 6 tastings and the dreaded peeps. I park myself at the table and feast on the peeps, to the horror of the people around me. I finish my wine, no problem. I have completed the challenge. I am 2 hours over the 24 hour time limit, so I am not superhuman after all. But, I do have the best boyfriend in the world. I owe most of my challenge success to Steve. He is the best one man support crew there is (well, he could have woken me up on time). He is Birthday Challenge, after all.
<![if !vml]>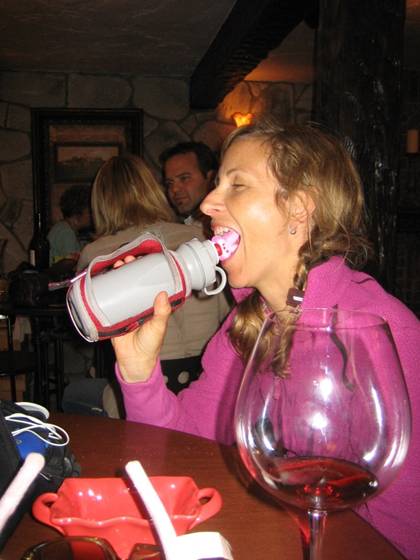 <![endif]>
I'm okay with not finishing my challenge on time. I mean, your challenge is supposed to be nearly impossible to finish, right?I had no idea if I could drink that much and run, but it seems my Viking blood runs strong. It really helped to have friends meet me at the wineries and drink with me. l also loved all of the support from Debbie on my blog. It is because of her persistence that I finally wrote the story. My only regret, really, is that no one would run with me during the challenge (except Steve and Phoebe, a bit). I'm still not sure about next year, for now I'm going to concentrate on finishing a 100 mile run. Buddhist's say that you are closest to god when you are suffering, so I say, let's get out there and suffer some more, friends.
<![if !vml]>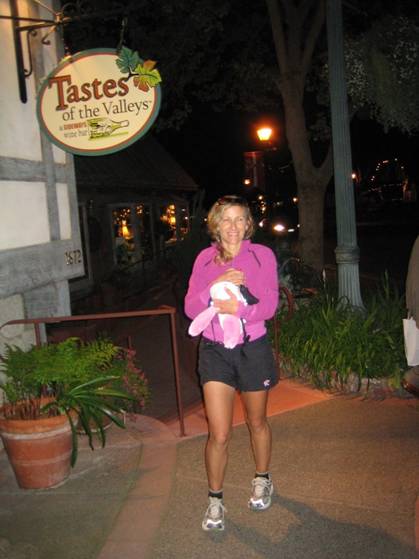 <![endif]>