Let this message announce the start of the birthday challenge.
It is 4am on Thursday in Madison, Wisconsin. Throughout the night, from 9PM onwards, it ceaselessly downpoured. For the moment, the rain has broken. This means our only homefield advantage has been taken away. While I can assure you that my comrades were kept awake by the same worries about the weather--a storm that we may be following out east--there was hope that if the rain stopped long enough before the climbing was to begin, the hard and slick Devil's Lake quartzite may dry off just enough.
To be sure, we will be armed with two blow torches to expedite the drying of any key holds--a technique developed three years ago during Tim Halbakken's first birthday challenge. (He was able to send Show Me the Kind three times, a problem with delicate slab moves to a bad two finger sidepull, topped off with a wild throw to a finishing hold.)
Personally, I am anxious with anticipation. After having read Slavomir Rawicz's The Long Walk, I am curious to see when and how my mental durability will cave, what it will feel like to compare my plight with his and to understand that for the most part whatever I may be going through--though how terrible it may seem at that moment--is nothing compared to the trials of escaping a Russian prison in Siberia, only to trek through the Gobi desert and the Himalayas with nothing but the food and water one finds along the way.
I only wish Neuman had read the same book. Because I know from my attitude guru Hondo that when the going gets tough for Neuman--even as team captain--there will be nothing I can do for him.
And so I await the team to arrive at my doorstep to begin the long journey.
As Heidegger once said, "We work to drink."

neuman and todd mei, carb loading at the send-off party at boulder's climbing gym, in madison.



Day 1-Devil's Lake, WI & Jackson Falls, IL
It was a good send off as Tim Halbakken and Nate Emerson went with the 
birthday challenge team at the North Shore of Devil's Lake.  Climbing 
began around 7AM.  It had been raining for the eve of the start of the 
challenge and was drizzling the entire drive up to the Lake.  With a 
handy blow torch, the crew was able to dry holds as Neuman climbed, ending 
the day on the 20 ft. Big Bud Arete.  Although Neuman could not follow 
his planned 24 problem circuit from the North Shore to Bark Biter 
areas, it was certainly heady climbing on the slick and tall problems by the 
lake shore.  By 9:30AM the crew was off to Southern Illinois, a 7.5 
hour drive. 
Though it was not raining, the storm from the previous night had soaked 
the sandstone pretty thoroughly.  The trees were in bloom in the valley 
and the lack of wind made every boulder problem damp or soaked.  Taking 
care to figure out which problems could be climbed in the rain, the 
crew figured on slopey, short aretes.  Neuman lapped some easier problem 
but ended the day on a very wet Yosemite slab, a 25 ft. slab problem 
with a delicate crux.  By 7PM the crew was off to Indiana, with no place 
to sleep.  Highlight: Josh Lavik (off the couch) climbs Yosemite slab 
for his first time with all the holds wet or damp.



umm, there's not much i can do for you." neuman tests fate on day 2




 
Day 2-Mukatatuck Park, IN & Lake Vesuvius, OH
Hitting rumble strips and battling dense patches of fog, the team 
settled down in the town of North Vernon.  Todd Mei was on the look out for 
a park and unknowingly set the vehicle down to rest in the county park 
they were to boulder in the morning.  Their arrival time was 2AM.
By 5:30AM, team captain Mei was up and about pressing his "freedom 
roast", flying his "freedom" flag on his thermos.  The bouldering was to be 
had on a short lime stone wall about 100 yds long.  Neuman started at 
one end and made his way down, scraping mud from his shoes, being 
careful not to pull too hard on sharp pockets.  The bouldering was fun but 
wet.  By 8AM the crew made their way to Ohio.
Arrival: 2PM.  After wondering why Ohio was considered "the birth place 
of aviation," the team was soon to find out that this may be because 
Ohio really has nothing else.  What Rock and Road author Tim Toula 
described as "awesome bouldering" in Lake Vesuvius was nowhere in sight.  
Part of the park was closed, which we were guessing contained the many 
awesome boulder problems, but luckily the creative genius of the team was 
able to spy some short by fun sandstone problems.  Departure: 5PM.
Day 3-Cooper's Rock, WV & Shickshinny, PA
Only the second night, but the team was tired and checked into a motel 
in Morganstown, WV at about 8:30PM.  After a small cookout on the their 
Coleman stove in the parking lot, the four members proceeded to drop 
off like flies into deep slumber.  Climbing at Cooper's Rock began at 
7AM.  The bouldering was phenomenal with boulders scattered everywhere.  
The sandstone was good quality and the landings very kind.  The park 
overlooked a valley and river that could make any hardboiled man a bit 
nostalgiac.  Neuman managed to onsight a problem we figured to be V3.  
This boded well as he was trying to stay on easy problems for the first 
few days and ease into harder climbing.  We talked about the rating a 
little bit and came to the conclusion that we had no idea how hard 
anything was anymore.  Time on the road, lack of sleep, having climbed mostly 
at Devil's Lake and the sometimes stout Jackson Falls, all these 
factors meant we just had no clue about anything.  A high spirited team!
  embarked for Pennsylvannia at 9:30AM.
Arrival: 3PM. High spirits were soon crushed in Pennsylvannia.  Without 
a proper pit stop, the team arrived in the remote countryside of the 
state, in the town of Shickshinny which Tim Toula described as having 
good bouldering.  Having trouble finding the pullout for the trailhead, 
the team stumbled upon three animal carcasses: two clean to the bone deer 
skeletons partially wrapped in a blue tarp, one clean to the bone dog 
skeleton in a torn glad trash bag, and two recently cut off beaver 
tails.  Digusted by this macabre scene, the team found themselves contagious 
with the goose bumps, wondering why and who would do this.
The first part of the session was spent on the hillside amongst 
quartzite boulders.  Problems were quickly dispensed with as the team wanted 
to leave as fast as possible.  Long time Madison, WI resident and 
occupant of the Drake Street House, Dan "Area Dan" Richelson made and 
appearance as he was temporarily living in Philidelphia.  With the addition of 
his esprit de corps, the team went to the second area, Paradise rocks.  
Lost and frustrated, the crew repeated the Lake Vesuvius technique of 
finding boulders and scrubbing them clean.  Many short but indeed fun 
problems were had.  On the hike down we found the actual area but decided 
not even to wave at it.
The plan was to head to the nearest city, Wilkes Barre, to get some 
grub and beer,  Wilkes Barre would be a good setting for a sci fi film.  
Some parts of the city are like a small town, others standard suburban 
sprawl, still others a low end neighborhood of leaning houses.  It has a 
nice looking college with a derelict downtown (every store empty).  It 
was impossible to find a restaurant.  We stumble on what looked to be a 
standard bar/grill called the Saber Room.  We walked in and saw several 
men dressed in black ties in a dimly lit room.  Entrees were $30 a 
plate and there was a sign that read: "We no longer serve French Wine".  
Yet they served French food.  Camera Man and Tech Guy Mike Neuman erupts 
in absolute anger at the foodless, godless situation.  Morale is very 
low.
Totally, depleted the team had to settle on Chili's.  Service was slow 
and the food was terrible.  Dan left our company as the team made their 
way to Boston.  Departure: 8:30PM.
Day 4-Hammond Pond, MA & Portland, ME
Arrival: 2AM.  After a stout drive, the crew pulled into the last 
service rest before the city of Boston.  The four members slept in their 
captain's chairs in the Plymouth Voyager.  At 5:30AM Mei awoke the team.  
Much of the morning was spent enjoying the easy but heady 25-30 ft. 
slabs in the main area.  It was very nice to get mileage on a crisp 
morning with no one else around.
The second part of the day was spent at the Temple boulders where 
Neuman started to turn on the juice, trying to send harder problems.  After 
a skin gobi resulted from a failed dyno attempt, Neuman toned it down 
and finished out the day on V0s.  Departure: 9:30AM.
Arrival: 1PM. The team decided to change the schedule and head to Maine 
for lobster and the coast scenery.  Bouldering was located under the 
lighthouse in Portland.  Talus bouldering and a 15' headwall provided 
most of the action.  The headwall had a ledge that ranged anywhere from 3 
to 6 feet.  After that it was a drink in the cold waters. This made 
things quite exciting.  A picturesque day yielded food and drink, fresh 
lobster sandwiches and full bellies.
A flat sleeping area and a shower was waiting for us in New Hampshire, 
At Josh Lavik's aunt's house.
Day 5-Pawtuckaway, NH & Lincoln Woods, RI
Tim Toula once again proved essential in getting us lost, late and 
frustrated.  The description to the parking was backwards.  With no real 
map of the area, the team floundered in the forest amid pesky black 
flies.  Neuman, worried he would be late to meet with our guide in Rhode 
Island, sprinted ahead to try and find the Natural boulders.  The rest of 
the crew, not knowing where he would be, spent the time hiking around.  
While Neuman was dispensing quickly with his 24, Mei soloed some easy 
slabs.  Lavik found Neuman and headed back to the car where a verbal 
altercation erupted and subsided between Neuman and Mei.  Let's get the 
hell out!  Departure: 10:30AM.
Arrival: 12:45PM.  Rhode Island was awesome.  A local by the name of 
Steve provided us with everything we needed, showing us every easy 
problem for Neuman to get his 24.  With his custom made giant yin-yang Zealot 
pad, Steve took us to the warm up boulders, Ship's prow, the Wave wall 
and the Try It Again boulders.  Another local named Dana showed us the 
Green Drool boulder which Steve didn't even know about.  So much rock 
lays in the park that it's easy to miss.  A climber from New Hampshire, 
Mike G, joined us and fed beta to us at the Try It Again boulders where 
the team put themselves up against harder grades.  Highlights: Neuman 
bumps his climbing up, flashing V4; Mike goes without any food until 
4:30PM; Todd flashes two V7s, gets another V7, and another V8.  Departure: 
4PM.
The team heads to Albany, NY to meet up with Zealot president Scott 
Glogowksi.  Beer at an Irish pub in Saratoga and good conversation closes 
the day.  We also learn Scott is calling it quits with the Zealot pads 
because of the bad economy.  Made by Scott, by his own hands, Zealot 
pads are a rare and hard-sought purchase.  When climbers seen another 
climber with a Zealot pad, their first question is: "How do you know 
Scott?"  Disheartening news.

neuman still going strong at lincoln.




Day 6-The Gunks, NY
I've decided to switch the updates to first person narrative as the third person "the crew" and "the team" get tiresome to write.
Our first day with only one state. Like a power play in hockey, the one day-one area event was more of a sandbag. We were put off guard with the apparent facility of having to climb at only one area.
First, our camera man Mike Neuman was informed by his parents via telephone that his health insurance needs to be renewed and he needs to have his weight taken by an official nurse. Otherwise, he would not have insurance until then. So off we went with Scott Glogowksi to a nearby town Latham. While waiting I was able to purchase a bottle of Rip Van Winkle Rye at the neighboring liquor store. After dropping off what may have been his last load of Zealot pads at the local climbing store, Scott took us to the business. By 2pm we were at the Gunks.
Second, Scott decides to take us to the classic bouldering which features classic grades, in other words sandbags. So in stark contrast to Lincoln Woods only the day before, Neuman was struggling to climb V2 and I was struggling to climb V4.
Third, Neuman falls out of a crack boulder problem and sprains his ankle. Bred as a gym climber, Neuman found it hard to lock off on a jamb and finish the problem. He jumped down and landed on an uneven part of the pad. In determined fashion, Neuman climbed with an ice pack on his ankle. I was happy to get two of three John Gill problems. The egg, however, remained elusive. I will be back.
Scott ended our day by showing us a nice burrito at the Last Stand. We then left for Philidelphia, anticipating a stay with Area Dan and his cousins in North Phili. Departure 6:30pm. Arrival 11:30pm.
Hold your horses. Exit Girard Street. Real close to the downtown. The city of brotherly love is anything but that. I've been to many cities across the world and the residents of Phili take the prize for being the less cordial. Trenton may run a close second. After driving by the neighborhood where we are supposed to stay the night. We decided that a Plymouth Grand Voyager with a Thule space case is not the best vehicle to leave on the street—even with most of the valuable unpacked. Dan is still not back from a show. Josh Lavik suggests we think this over a beer. Off we go. No liquor stores to be had, and probably with good reason, added Neuman after seeing the local flavor. We pull into an AMOCO station. I walk inside while two gentlemen look at me and two elderly people stare in silence. The place feels like it's being robbed. I see people, possibly clerks but who knows, behind the thick bullet proof glass. I decide to high-tail it before the scene becomes something out of a Tarrnatino film. Then, we pull along side a beer that advertises "beer to go". On the corner entrance are loads of gangster types. We speed off.
Mike Neuman had the quote of the night. In frenetic agitation he blurts: "I'll pay for the hotel room if we leave." We leave and stay the night at Motel 6 in Chester.
Day 7 -Rockford Park, DE & Maryland
(arrival: 7:30AM)
The lows were not to stop. Rockford park had some granite bouldering. Hard to find 24 problems that didn't make Neuman think anymore about his ankle. To top it off, on one of the better problems there, Neuman managed to pull off a block on himself. The video of the event shows a pretty clean looking hold suddenly peeling.
Luckily, Josh (not usually known for his spotting prowess) moved the pad and blindly got his hands up just in time to prevent Neuman from spearing his back on a boulder. Departure 10:30am.
Now by this time, the weather had become severe. Tornadoes were hitting much of the south. We had been crossing our fingers hoping that we could make it to some of the other southern states like Virginia and North Carolina before the front moved in. We had given up hope that Tennessee would be anywhere near dry and climbable. We agreed that we had to try and get another state in to make sure our brilliant and courageous efforts would not be squelched. We decided to hit a small bouldering area in Maryland called Woodstock. Arrival 12pm.
Once again, Tim Toula's directions were a bit off. While the area was only about 30 minutes outside Baltimore, the area felt distinctly rural. On top of this was the fact that Josh had forgotten his crash pad at the last place in Delaware. He went back to get it, a drive that would take him over 4 hours. Meanwhile the gang headed to the boulders only to find the entire place saturated and completely unclimbable. Fortune would have it that there was a bar close by, the Woodstock Inn. There a very well endowed bartender served us Highlife and Philly Cheesesteak. But nothing could take the edge off waiting a full four hours for Josh to get back. When he did, we raced to Baltimore, dropped him off to get his Greyhound and looked for a place to change the oil.
Quote of the day goes to Mike Neuman. And before quoting him I should add that Patrick realized he had forgotten his expensive yuppie sleeping bag and eye glasses at the motel. His response: "Oh well." This was in Delaware, about 45 minutes away from Chester. So the quote: "Pat forgets his sleeping bag and his glasses. $400 worth. Josh forgets his $75 crash pad (Cordless pro form) and has to drive back…" You can imagine what follows that ellipses…! Repo man is always intense. And so is team CF. Our party was now three strong. No problem with that!
After losing Maryland we decided that we could not wait out the storm system. I wanted to call Miguel's in the Red River Gorge despite the fact that the weather channel showed severe thunder storms and bad road conditions in the area. Mike called his work to have a co-worker find the number to Miguel's via internet. You have to remember we were not in any shape to spend time looking for resources like internet connections. Miguel's said no rain for days. Off we went to Kentucky. Departure: 7:30pm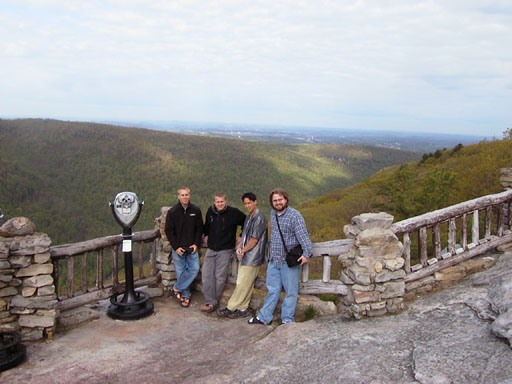 calm before the storm
Day 8-Coffee Shop, Kentucky
Through West Virginia we arrived at the Red River Gorge at 4:30am. I parked the van at the pullout just across from the Coffee Shop bouldering area. We slept two hours. As I made coffee Neuman went up the hill. His report: soaked.
I didn't believe him. But it was true. The trees up top caused severe seepage. The trees below prevented any drying. Neuman sucked it up big time and bouldered 24 problems carefully on wet sandstone holds. Nothing broke. We made sure of that. Departure: 7:50am. That's right Neuman bouldered non-stop.
The road to Missouri was long. Weather got hairy just east of East St. Louis. One car lost control and went off to the side as torrential rain caused some hydro planing and poor visibility. We decided to gamble yet again, trying to hit Elephant Rocks on the notion that granite would dry fast in the winds (unless it was covered by forest). Otherwise, at least we were making our way to Arkansas which we heard escaped the rain (at least at Horse Canyon Ranch). If things were really bad, then we could head to Cape Girardeau, MO and boulder on a stone wall protected by a bridge.
This was definitely the crux, and I was anxious to keep to the schedule. On the way down to Elephant Rocks, we passed through a small town called Desoto. We were at a stop light when we noticed a commotion off to the side at a Walmart parking lot. There was an ambulance. Then we noticed people on roofs. Then we saw some buildings were destroyed. As we drove along, we saw utter bedlam and devastation: trees uprooted and fallen on houses and cars, a mobile home turned upside down, power lines down, the American Family insurance building (ironically) was in shambles. This went on for several miles. Either a small tornado or gale force winds had their way. As we headed further south, the weather cleared. I noticed the roadside rock to be dry.
Luck would have it. The Elephant rocks were for the most part dry. Neuman started off slow and grumpy but ended the session on some classic granite bouldering. Great bouldering we wish we had more time for. Quote of the day: "We're on schedule." I couldn't believe it. Off we were to Springfield, MO. Departure 6pm.
May 9-Chandler Park, OK
Although we had a guide for Horse Canyon Ranch in AR, we decided to remain closer to New Mexico since we had good friends there in Tom Norrdin and Allison Patricelli. Besides, Neuman needed a day of quick and easy bouldering. Chandler Park offered all that.
Humid and hot, Neuman ran around the corridors sending problems left and right, even getting it together to finish a harder slopier prow. The limestone was soapier than I've felt anywhere else. With the humidity, it was very treacherous on the mind. Very fun problems, and some kids told us the best bouldering was elsewhere in some cave. Fine, but all I could think of was the fact that we were on schedule and headed for some good Mexcian food. We arrived at Chandler Park at 10:30am and left at 1pm for New Mexico. We arrived in Albuquerque at 10:45pm.
May 10-Albuquerque, NM
A day of rest. Miniature golf, XMen 2, La Hacienda burritos and deep fried Indian tacos, and lots of drinking. Tom and Allison's baby Luke was a charm to meet. Uncle Mike, Uncle Neuman, Uncle Todd… a motley collection of men you would not want your child calling uncle. Tomorrow, bouldering somewhere, some place. But tonight it's good conversation, good drink, and rest.
Until then, this is Team Captain, Todd Mei
May 11-Embidito Canyon & U Mound, NM
Sharp granite gave way to pain. Neuman climbed poorly after a day rest--the day off took him out of the zone. Our host, Tom Norrdin, managed to climbed harder off the couch then any of us. I experienced a puncture in my right index finger after pulling too hard on a sharp rock. To top it off, our van was broken into at the Embidito parking lot. Luckily, nothing major was lost. Allison Patricelli had her check book stolen.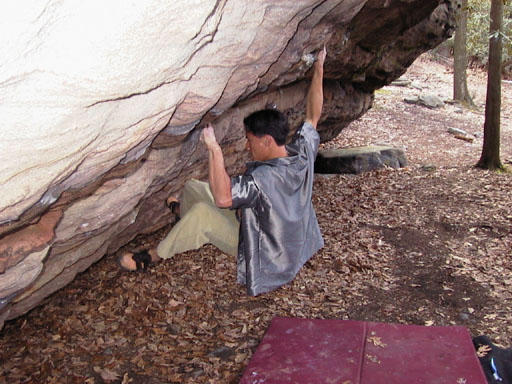 the executair bouldering in styles
May 12-Albuquerque, NM & Priest Draw, AZ
We stayed an extra night at Tom and Allison's due to the break in (did not want to pay an extra fee for window service on Sunday). In the morning we repaired the window and headed off to Flagstaff. Priest's Draw is just south of the town. Great limestone bouldering. We met a bunch of bros at the first area who gave us some ambiguous advice about the bouldering. Not very helpful and sparying beta everywhere as we climbed. Perhaps they were keeping up the hardened local image. In fact, not very many of the people we met there were too nice, except a novice climber who just moved there from California.
Steve Edwards warned us that Priest's Draw can take its toll, and as we were to find out the next day, it did. Some thuggy climbing meant tired muscles and a tired mind. Departure: 6:30pm
May 13-Joe's Valley, UT
We arrived at Joe's (after a great breakfast in Richfield) at about 11:30am. We were fatigued. But still Neuman managed to get some problems down first at the Boy Size area and then at the Warm Up. At the warm up, we ran into the Voodoo gang. They were fantastic company for the brief time and it was great to see Voodoo Gina send a problem no one else could get. We wish we could have spent more time there, but such is the curse of the birthday challenge. Departure 5:30pm
May 14-Boulder, CO
Matt Norrdin, Tom's brother, was our guide and host for Flagstaff bouldering just outside of Boulder. After a beer or two and some grub at a local brewery, we headed for the sharp stone. Still tired, Neuman barely scraped by (most likely because he seemed more focused on more drinking). As I write this, we're drinking Margaritas and headed for a barbeque with Matt and his girlfriend Anne. Tomorrow, it's Vedavoo, or however you spell it. From here on out, Matt is with the challenge team as we make our way to Idaho and Oregon. Happy drinking, the Executair.
May 15-Vedauwoo, WY
Still don't know how to spell Vedavao. After an early lunch at the Norrdin family household in Fort Collins, we headed for the granite mounds in Wyoming. Large boulders, mostly without features, offered friction climbing and crystal crimping. The place was spectacular and after a casual 24 problems we ate beans, brie (freedom cheese), and flew Matt's kite in the Nautilus parking lot. We then drove to Laramie, WY to watch the Matrix Reloaded, later named the Matrix Butt-loaded for its very disappointing plot. We then drove all night to Pocatello, ID. Arrival 3:30am.
May 16-Pocatello, ID
After sleeping in a rest stop for a few hours, we found the Ross boulders--slick basalt or limestone. I've forgotten. After an uneventful session, we all craved Mexican, except Mike. We drove around until the restaurants opened. After a very filling meal of burritos we decided to spend a rest day in Hood River, Oregon. Departure 11:30am.
Matt had been to the Hood River before. We tried finding some hot springs but with no luck. We eventually found ourselves in a cheap motel. By 11pm, we had settled down with a bottle of wine each, some pizza, and a movie. This would be a makeshift Chinese movie night. Wine was finished by Matt and myself well before the movie's end (K-19). Mike chose to go to bed. And Neuman fell asleep. We decided to put peanut butter on his face for a poor showing. I also demonstrated to Matt that one could have a conversation with Neuman while he was asleep: "Hey, Neuman. I'm tired. Can you drive?" "No." He never recalled any conversation.
May 17-Hood River, OR
After some coffee, pastries, and homemade ice cream in town, we headed to a bouldering area on the Washington side of the river. Not much. So we decided to once again search for the hot springs. Nothing. Back to town. A few beers and some burritos at a great taqueria. We headed off to Smith Rocks.
Halfway there we realized a very bad sound from one of the tires. I stopped after passing by Mt. Hood which was covered with snow. The left front wheel had two lugnuts sheered off. Most likely this was from the Goodyear in Boulder, Co that rotated our tires. We had to stop every ten miles to retighten the remaining lugnuts. We made it to Smith and camped for the night. We had bottles of wine and embarked on a second Chinese movie night. Only this time we watched episodes of South Park on a laptop. It was damn cold. We built a huge fire and listened to the sounds of Kyle and Cartman echo across the campground of soundly sleeping sport climbers.
May 18-Smith Rocks & Bend, OR
Matt Ryan, Tim Halbakken's friend, met us at the campground the next morning and took us to a giant boulder near the monkey face. Neuman climb ten problems and we then hiked up to the monkey face to see a spectaulr rock and have a great view of the land. Matt mentioned that some kids had not too long ago pendulumed off a horn on the monkey face. We looked at the arc from the trail and all decided it was a bad idea to do anything like that. We then talked about Dan Osman as one might naturally do in such situations. We went to Bend and had a great meal and lots of beer at the local brew pub. We then headed for some in-town bouldering area (Oiuja?). Neuman quickly finished his remianing 14. A great end to a day as we began to fall off some classic problems. Many thanks to Matt Ryan (just recovering from a bad ankle sprain) and his wife Nicole for putting up with us and showing us around. Tomorrow, we try to repair the vehicle and pick up Tim Halbakken in Eugene. We then head to Reno, NV.
May 19—Bend, OR
It should be mentioned that apparently Matt Ryan has a special rule at his home, at least for that evening of May 18 th . This rule stated that all the beer that is in his refrigerator had to be finished before the evening's end.
Before arriving at his home, we bought a case of beer (12 pack of the Deschutes Black Mountain Porter & 12 pack of Deschutes Pale Ale). Suspecting a normal evening of talk and drink, Nicole hung around for a while. When it appeared we would do nothing other than drink, I couldn't blame her for trying to catch up on some sleep after working a brutal shift at the local hospital. Thereupon, Neuman (a self-proclaimed beer drinker) took up his normal routine of having no more than two beers and passing out. Matt Ryan, Matt Norrdin, and myself enjoyed a glass of Rip Van Winkle Rye amid the beer consumption. Matt Norrdin retired after 5 or six beers, leaving Matt Ryan and myself with many beers to go. Alas, Matt announces his beer rule. Not being a beer drinker, I cringed and envisioned a puking session by mid morning. After an hour long banter criticizing Matt for obvious macho energy, I succumbed to the rule. We split the last five beers and stumbled to bed. I should mention that while drinking we were throwing Matt's dog Bailey on top of the Neuman and Matt Norrdin. I also put mustard (French, of course) on the upper lip of Senor Norrdin. Off to bed… As Matt was to note the next morning: "Why is it always that before you go to bed someone thinks it might be a good idea to have another drink? Yes, that's what you need before bed, another drink."
I employed my cold temperature theory to head-off the hangover. I slept outside. Matt danced over his bed and awoke Nicole (as we were later to learn).
The next morning, I seemed to fair a little better than Matt who said, "I'm surprised you didn't punch me for making you drink that beer." After a greasy breakfast at a local bar and grill, I headed off with Mike Neuman to Eugene to collect Tim Halbakken. Matt, Matt, and Neuman visited Jim Karn at Metolius and continued the debauchery by eating as much Thai food as they could at a local buffet.
Tim was a happy man, just recently graduated from the University of Wisconsin's Landscape Architecture department. He was ready to drink a few beers. After two hours or so, we met with the rest of the crew and ate at the Bend brewery. More food, more beer. This road trip, no doubt, was a sandbag of enormous proportions. We then left Matt and Nicole and headed off for the unknown in Reno, NV. Departure 7PM.
May 20—Reno, NV
Matt Norrdin drove the entire way, his eyes peeled open during the twilight hours as the deer were making mass migrations in southern Oregon. We somehow fit five people in the van, making a small compartment just behind the rear seats with two crash pads. Tough to handle at first, one soon got used to the awkward space. We arrived in Reno at about 2 or 3 AM. We had no place to stay so we opted for the Walmart parking lot on the northside of town. Neuman and his brother slept in the van. Matt and Tim spread out crash pads and slept on the asphalt between the van and the curb. I slept in my open space case on top of the roof. Tim kept his glasses on in case any intruder decided to stab him. The last thing I remember hearing was the van doors lock. Sleep was light as cars sped by to who knows where. Distant voices seemed ever close. I was waiting in a light slumber to hear: "I'll fuckin' stab yah!"
We hit a casino at about 6AM, ate at the ever depressing Mel's. A game of Keno and some slots…but we failed to double our money. We called Stuart Emerson who would drive from Truckee to Reno to meet us. We took two cars to Tommy Caldwell's new place in the middle of nowhere. No one else was around, and the scenery was very nice indeed. Slickish granite boulders spreadout on a hill just below some desert mountains. Fortunately, the weather was cooler though we still chased the shade. Most of the problems were moderates, and each one seemed to be an instant classic. The highlight was perhaps watching Matt Norrdin get on a fist jam crack on a boulder that seemed only 7 feet high. We were all too tired to hike down to the boulder to spot him so we sat atop the hill. As he dropped his pad in the landing zone, it was readily apparent that the boulder was close to 20 feet tall. He seemed to style the crack when Stuart mentioned the crux was topping out. With a slight hesitation, Matt topped out. It seemed Tim was hoping to see some epic-ing from our great vantage point.
Many thanks to Stuart. His help was crucial in making Nevada a pleasant state to climb in. Departure 4PM.
On the way to San Francisco, we stopped at Donner Lake for a cool dip. The water was unbearably cold. We then stopped at Redrum burger in Davis. Tim had a ½ pounder after having a tuna sandwich. I had a 1 pounder. Both of us anticipated a big night of drinking at Mr. Bing's bar in San Francisco; we therefore employed the BEEF RULE [beef before drinking means much more drinking].
Our original ETA was pushed back, but our San Francisco host and fellow drinking society member Ken Hinoki was expecting such a delay. We met up with Ken at the legendary Mr. Bing's at 9:30PM. I took the crew through the back door (where locals enter). I had not been there in over one year. In fact, I seem to make it there only once a year at the most. Robert, the owner was tending, while Scooter took his place by the back door. I popped in and heard Scooter holler: "Fuck! Todd! Fuck you! Hey, where's Patty?" There is an apparent law of physics at Mr. Bing's. Patty (my significant other, as the parlance of our times goes) and I cannot be at Mr. Bing's at the same time. We just never happen to be in San Francisco at the same time. Scooter seems to be the discoverer of this postulate.
Mr. Bing's is indeed a legend. Good, inexpensive drinks, great bartenders, and many antics. Once the meeting place of the Nacirema Drinking Society, Mr. Bing's was first enjoyed by us in 1995. Ever since then, it is a destination bar, an historical marker of drinking.
The crew enjoyed several drinks at the distinct and oddly shaped U bar. Robert bought our first round and Ken bought us several more. Ken then enjoined in games of chance to try and win drinks, but without much luck. We all drank like fishes and thanks to the BEEF RULE, I felt entirely sober after 4 or 5 drinks.
We then followed Ken back to his house in the darkside (Richmond district). We cast our bags upon his floor. Neuman passed out right away. Keiko, Ken's wife, peered in for a few minutes to laugh at Neuman's "dead" body lying on the floor. Ken treated us to more whiskey, even breaking into his bottle of Blanton's while we watched Joe Versus the Volcano, a sleeper.
May 21—San Francisco, CA
The last state! A day off and much to see. Tim was intent on seeing some of the city. I was intent on commuting downtown to see all the working stiffs since I was once one of them. We took the bus downtown, enjoyed a Peet's coffee, and worked our way back to the Haight-Ashbury. We had some cask ale at the Magnolia and had some sandbagged food at some Thai place near Ken's. It gave us all heart burn and bad gas.
Everyone was astounded by Ken and how much of a good host he was.
Sad to leave the City, Tim knocked me out and put me in the back of the van. We then headed to Castle Rock to boulder.
Castle rock was overrun with bugs. Tim went to check on the classic slopey V6 problem there. He observed someone spraying water on the holds and scrubbing them. This baffled all of us. It wasn't as if the water would make the holds cleaner. We waited for it to dry and then climbed it. It was here at Castle Rock that I confirmed that I climbed in oblivion in my past years. I ended up suggesting hard problems for Neuman to get on not realizing that they were in fact hard. Oh well, it was still fun.
"Yeah, I remember this one. I think it's really fun…or really jacked…"
Neuman, despite my obliviousness, got in 8 problems. We still had two more places to go to in California.
We headed to Mike Norrdin's (yet another brother in the Norrdin clan). We stayed at his friend's condo in Sunnyvale. We were intent to have another Chinese movie night with pizza. Yet it was only I that finished my wine. We then proceeded to stink up the condo with our incurable body and foot odor.
May 22—The Bay Area, CA
We awoke and hatched a plan to get coffee. While trying to find a cafe, we hatched yet another plan: go to Berkeley so the crew could have King Pin fritters and Cafe Milano double lattes.
The word was that King Pin fritters were not that same they used to be back in 1992. The fritter challenge (2 King Pin fritters and a jelly donut in 45 minutes) was therefore not as imposing. The crew each had a fritter while Halbakken upped the ante by throwing in a jelly donut. He proclaimed that though dense, King Pin fritters were not as good as Madison's Greenbush fritters, nor were they as big. Still, he suffered some stomach pains later in the day. And still, no one dare try the challenge.
Berkeley offers everything from old hippies to young blondes in white semi-transparent skirts in black thongs. Yes, we saw it all. And yes we left. Had to get back to Sunnyvale before the traffic started.
Two things of repute happened in Sunnyvale, both involved Matt:
First, Matt wanted to show an episode of South Park to Tim ("Cancelled"). Mike was sick of us quoting South Park, and did we ever poorly quote the lines. All the episodes were on Mike's laptop.
"Mike, can we watch an episode of South Park?"
"No!"
"Come on!"
"No! I'm sick of you guys quoting lines. You guys suck!"
Matt goes to get the laptop. Thinking Mike is kidding he proceeds to boot it up.
"You guys watch another episode and I'll erase all the pictures I've taken so far."
"That's okay, I'm not Narcissistic."
Mike gets up and leaves, slamming the door. Matt continues to use the laptop. I walk over and tell Matt that Mike wasn't kidding about not liking us quoting South Park. Later during the trip, Mike tells Matt that us quoting South Park would be the same as him going to our favorite bouldering area and spray painting all the holds fluorescent pink.
Second, we go swimming in the local pool. Matt is swimming with his eyes closed. He hits his head on the pool wall. He has two huge welts on his head. It looks like a mild concussion. I'm left wondering how anyone could do such a thing. We play Marco Polo. I hit my face on the pool step rail. Funny ha ha.
That evening we split up. Matt stays with his brother Mike. Mike Neuman hangs out at the condo. Tim, Neuman and myself meet up with Binky in Redwood City. Binky was a former resident of the famed Castle in Santa Barbara, CA. We had some great burritos and enjoyed many drinks at the Saddle Room. The conversation was rich with Binky stories and eye-brow raising, much of it unrepeatable. Fun for all…if Binky were a toy doll, we'd all be millionaires.
May 23—Yosemite, CA
An early morning start after a heavy night of drinking… what else is new? We arrive at Yosemite at 11AM. It was not too hot but the mosquitoes were bad in some areas and seemed to know where and how to bite without us noticing. We warmed up on a few boulders in Camp 4 and then hit some classics like Battle of the Bulge, Bachar Cracker, and Ament Arete.
Tim encouraged me to get on King Cobra and after several attempts I managed to fall from the first lip hold. This happened after he said, "If you barn door there, you might as well get the gurney."
Neuman got 10 problems in, climbing well for never having been to Yosemite before.
We then threw ourselves futilely at Midnight Lightening. Departure 4PM. Off to Santa Barbara. We arrive at Phil's. He has a huge house and Patty and Tim's finacee Jess are already there.
May 24—Santa Barbara, CA
Neuman finishes his bouldering at Lizard's Mouth. And I was happy to see that my local stomping ground held up well to the other "classic" places we had been to. And the Mouth is not even a destination area. Classic problems like the Hight Hat, Call Me, and the Meilee traverse made the day one of the best of the trip. The sun was out on the mountain whereas below in Santa Barbara, the coast was socked in with clouds. Steve Edwards, Reed Bartlett, Bob Banks, and Debra Merlot (local hair dresser and Santa Barbara pal) arrived. Drinking began and more bouldering. What a day! Just like the golden years.
Lisa Neuman arrived at 7PM that night. The Neumans were reunited. Couldn't even tell Lisa had had a double lung transplant.
We celebrated the evening at the Brewhouse. However, the music was loud and terrible and the waiter was a knob. But the company was great, and we closed the evening watching Miller's Crossing (just out on DVD) at Phil's.
ETC.—California and Back
We spent another day bouldering at Pine Mountain, another great and hardly visited area just south of Santa Barbara. Tim, who had sprained his toe playing beach soccer the day before, out bouldered everyone save Bob who is the local anit-bro. Adam Siner and his girlfriend Jenny showed up for a few problems and hellos but then had to endure the halacious drive back to San Diego. Adam used to live in Madison and run the local climbing gym Boulders before handing over the wild ride to Tom Norrdin and myself.
We eventually headed back towards Colorado to drop off Matt (drove straight through from Santa Barbara). We stopped at Unaweep, CO along the way. But all of us were tired of traveling and intent on getting back to Wisconsin. A night at Matt's parents' house in Fort Collins with Tom and Allison provided some laughs and some respite from driving.
The party only three strong thereafter (Neuman, Mike, and myself), we headed off into the flatness of the Midwest. A tire blowout just east of Des Moines stalled us a bit, but we were able to pull in under 15 hours at 2:30AM.
As I write this from my home in Madison, I have nothing to say. But something from a movie I once saw seems apt.
"That's it, back to normal. All broke."
--Henry Chinaski, Barfly (after consuming his last whiskey)