| | | | |
| --- | --- | --- | --- |
| Latest Updates from Steve's 40 Days of Hell and Other Stuff That's Going On | | | |
10/31
The last Century
Neither wind nor sleet nor rain nor snow could stop him, and on a classic Santa Barbara fall day the skies cleared to sunny and warm with a slight wind and Steve cruised through the last century. He finished the day with relative ease, saying that it was much better than yesterday, and far more pleasant than the rainy Sunday. But alas, all is never well, and he seems to be coming down with a cold. Could it be that his battered down body's immune system has taken a hiatus? Has plague come into the picture after all? Whatever lies in the future is unknown at this point anyway, as Stainless the Challenger has yet to decide on tomorrow's event, but undoubtedly it will be something requiring little effort from the lower body.
10/30
Century city TO WINDY CITY
First came the rain and floods, now the wind, the next step can only be fire or plague, possibly with a swarm of locusts thrown in for good measure just to be sure Stainless stays true to the suffering.
A rather crisp Santa Barbara day for century number 3, but our lone rider passed through just fine with no one to pull for him, merely complaining of the bitter headwind during much of the ride and then agonizing over the return trips 'crosswind' instead of tail wind. Was it merely an attempt by the gods to rub salt in the wounds of the previous day's success's? And what will happen tomorrow to the fatigued and saddle sore rider? We shall see if his tires burst into flames. Hey, is that a grasshopper?
10/28
Century city
Trying to put the abysmal failure of the quarters behind him, Steve hopped on his bike and started day one of the 4 centuries this morning (for the uninitiated, a 'century' in cycling lingo is a 100-mile day). The evening prior saw him properly training on a diet of beer, American Spirits, gruel and a subliminal viewing of Clint Eastwood's Every Which Way But Loose, slipped in the VCR after he had passed out on the floor. The magic of the Oly-drinking, ass-kicking Philo Beddoe came through, when after a rusty start (just like against Tank Murdoch), Steve breezed through the day, feeling good and charging hard until the end. Support riders were Reed 'Orville' Bartlett (who turned his hat around and rode nearly all of it), David 'Tank' Brainard (who kicked ass and pulled much of the first half), and Bob 'Clyde' Banks (who monkeyed around on the last leg of 15 miles).
After the ride, Orville stated, "After today, I have no doubt that he will complete the four centuries." Stainless himself was a little less sure, saying "I felt really strong today but am nervous about tomorrow, since I've never ridden back to back centuries before."
10/27
QUARTER MILE MELTDOWN
After the rains came down in SB (36 hours of it and 2.5 inches to be exact), Steve headed out this afternoon to the Santa Barbara City College track to run the last of his sprints, the four 400 meters. The goal time was 54 seconds, and today, on Day 15 came the first major failure of the Challenge, not making a single sprint in the allotted time. In short, the first sprint went terrible, where Steve went out WAY too fast and found himself about to black out with 40 meters to go and stopped, saying it felt as though someone was driving a stake into the back of his skull. Afraid of serious injury, he then cruised the others in 65, 64, and 62 seconds. He says he will re-attempt this during the challenge if there is time, or--like all failures--he will do it over the course of the next year.
Not to be set back by this debacle, Stainless is now looking forward to the 4 centuries (100 mile rides) on the bike starting Saturday morning. Never mind that the only long ride he's had this year was on Tuesday. Can anyone say saddle sore?
10/24
single-track wrist wrap-Up
In a late night phone interview Steve called to say that he finished the mountain biking portion of the Challenge, a 40-plus mile ride in the hills above Redlands, enthusiastically remarking that, "It was great, by far the best single-track I've ever ridden". It was the second ride of his life, made possible by borrowing a bike from Dave Guttman (thanks, Dave). Concurring with his glowing opinion of the day was support rider and virtuoso cyclist David Brainard, a man who's logged more trail time than the Sierra Club, who called it a shoe in for his top-ten rides. The day went mostly without incident and with minimal wrist pain, seeing Steve only crash twice (not including the "half-dozen times he couldn't get his shoes out of the clips and fell over while standing still." - Reed Bartlett). According to Reed's bike clock they spent just over 6 hours in the saddle. Tomorrow looks like a little more wrist rest in the 80 meter underwater swim.
10/23
The Wrist Looms! 40 V4s Postponed
| | |
| --- | --- |
| Steve's inflamed wrist has come to haunt him during the 40 V4s day, which after a mere 6 boulder problems was scratched in lieu of 4,000 sit-ups. The wrist, well it flamed up to almost double the size of his left, and when he pulled on it felt like "someone is shoving a knife in it." The abs will most likely fare better, as the sit-ups amount to something of a rest day and a stomach ache. And tomorrow comes the 40 mile mountain bike ride. But how can a man with a severely damaged wrist pound down 40 miles of mountain trails? Against a mountain so looming and so large? A trail that beckons to destroy him on every single-track turn? The ill-educated downhill racer has his work cut out for him for sure, and with heavily experienced support riders Reed Bartlett and David Brainard (both making the god-awful trek from Santa Barbara to Redlands solely to be a party in the potential debacle), the only question can be: Will the wrist or Stainless survive the ride? | Steve attempting 'The Birth Challenge'? |
10/22
SERVE IT UP! BEACH, BABES, BEER AND BALL (VOLLEY)
What could be better than sleeping in on Sunday and spending the afternoon at the beach? Not much for the wrist-wrecked Steve Edwards. The four matches of 2 on 2 beach volleyball were carried out at West Beach in Santa Barbara, and played out by Steve, Reed, Brainard, Bob, Binky, Paige Prichard and Paul, as well as the traveling Alaskans en route to Ensenada, Neil, Lee and Carlos. For the record, Steve and his team (the members varied) won 2 of the 4 matches.
ANDERSON NEARLY FINISHES AN EPIC CHALLENGE
The early word from Orange County is that Louie Anderson finished his entire challenge with the exception of 9 miles of the run. More details to come...
10/21
40 WAVES AND BOTTLE #063233
After the epic, what could be better than a nice easy day at the beach, and with Binky Greene in town for the weekend, how 'bout some surf? Steve, Reed, Binky, Ratso and bartender/surfer/actor extraordinaire David Brainard hit the world famous Rincon for 40 waves. No problem for Edwards, even though he's spent very little time in the water bodysurfing. The gang finished the day off tasting the fine spirits brought by Binky, an exemplary bottle of Jose Cuervo Reserva de la Famila tequila, bottle number 063233. Can you say smooth? Just like The Challenge....
10/20
40 PEAKS AND ONE EPIC
A day so long and grueling, even Ratso got tired, the 40 peaks day will possibly end up as the day remembered most, and the first (and hopefully last) epic. All started out fine at midnight when Steve, Reed, and Ratso headed up the hill of the first peak. By 4:00 am, Steve had polished off 9 peaks and was dead set to continue in fine style.
At 4:30 am Steve, Bob and Ratso started out on the first of the long hauls, 10 peaks, lots of elevation gain, and several miles of hiking. Unbeknownst to Bob, this was the only section of the day that Steve had not done before. Big mistake. At peak 8 the trail ended and the crew was left to look for another trail, that ended up not existing. All told, they were left to slog up and down trail-less 7000' peaks, dropping down drainages and returning up manzanita covered slopes for the next 4 hours. Since the boys only brought enough water for a 3-4 hour trip, when times got tough the water was without question decided to be saved for Ratso, the only one covered in fur. Luckily they eventually ran across a stream (after a 3000' ft nearly vertical descent down a drainage), so Ratso was happy and re-energized, while Steve and Bob were happy to have the last couple of sips of water to share between them. Numerous route discussions followed ("Should we drop down 3000' to get to that ridge over there that might have a trail, or should we continue down this shitty drainage and go straight up the next 7000' peak?") and they finally arrived at the car dehydrated, sore, and exhausted, where Reed had been waiting for the last 7 1/2 hours. Handing each of them a much needed beer, Reed was asked if he was thinking of calling Search and Rescue. He replied, "Well I was definitely worried, but I figured that since it was you guys then I probably should hold off. Anybody else, definitely."
After the epic, Steve slept for an hour or so, recovered and went on to finish the 40 peaks, although the remaining 14 were easier than those on the original list. A proud achievement. And he finished in time for a trio of Bloody Mary's at The Flamingo in Redlands, CA. They were unanimously voted as the best ever tasted by the trio. And Ratso slept.
10/18
SPRINTS, PART II
Encumbered by intense wrist pain for the third straight day, Wednesday morning found our hero sitting first in the illustrious Kevin Brown's Precision Biomechanics office getting his wrist looked at, and second, in the throes of Santa Barbara City College's track attempting to run four 200 meters in 24 seconds each.
THE WRIST Prognosis: two inflamed tendons rubbing against each other. Prescription: icing, ultrasound, ibuprofen, and Natty Lights to wash it down.
THE 200s
1 - 22.5
2 - 23.3
3 - 23.8
4 - 23.9
So he pulled it off with time to spare, but the last day of sprints will assuredly be harder: four 400s in 54 seconds, and the wrist is still an issue but Kevin seems to think that with proper care it will heal relatively quickly. Luckily the next few days of events are less wrist intensive than the previous, but stay tuned, anything can happen.
10/17
40 SETS OF 4 AND A BUM WRIST
Tuesday found Steve at Goleta Valley Athletic Club starting the 40 straight free-throws but he soon discovered that the sore right wrist, aggravated during the 40k kayak (see 10/15), would render it impossible. Opting for the 40 sets of 4 (pull-ups/push-ups/bar-dips/sit-ups), he finished it out, but not before sending his wrist into an arena of intense pain, rendering such routine actions like lifting a beer to his mouth (which he has done countless times) excruciatingly painful. Will this setback significantly hinder The Challenge? Time will only tell...
10/16
Apple Fritters and a New Boulderfield
Another combination day saw Steve complete both 40 new boulder problems and eat 4 King Pin apple fritters. The day started late as everyone was somewhat hungover from a short stint at The Blue Agave the previous evening. After a slow start and some car trouble, they didn't arrive at Pine Mountain until 2p.m. However, with help from Reed, Bob, Josh and Angie Fairchild, and Chris "Normal Guy" Leube, Steve was able to establish 40 new problems (see 10/17 diary for details). He then was able to finish off the fritters, in what he called the "hardest challenge yet".
10/15
40K Sea Kayak
A long day in the fog for Reed and Steve, who paddled kayaks from Refugio Point to Leadbetter Beach in Santa Barbara. It was Steve's first time ever in a kayak, and the last Bob saw of them was Reed explaining how to use the paddle before they set off. Whilst crossing one bay, the fog moved in around them and they had no idea where land was other than that it was on their left. Once they hit the shore they were forced to paddle just outside the surf, where Steve was capsized by a rogue wave, adding some much-needed excitement to the day. An experienced river paddler, Reed had never done any ocean kayaking either and both found the day to be a long, long grind. In the end, they finished in 7:30, a half-hour under what they were told it would take.
10/14
Mountain Marathon
The mountain marathon was moved up from the last day on the schedule. Steve chose a course at random. Neither he, nor partners Reed or Bob knew anything at all about the terrain as they headed out. It turned out to be a fairly nice course. While numerous (reportedly more than 50) river crossings slowed things down, a fair amount of good single-track allowed them to make good progress for much of the day. In the end, Reed and Bob both did more support than they had set out to do, with Reed completing 16 miles and Bob 24. Steve finished the day in 4:52, which may be an okay time given the hour or so they spent gawking at a virgin cliff, lounging around sight-seeing, and crossing creeks.
10/13
One Day, Two Events
On the first day of the challenge, Steve combined two days events into one. This is an attempt to open up more free days for traveling, and to try and create a window of time to get up to Yosemite. He figures that two or three extra days are needed, so he will combine events from time to time.
Today was the forty 100 meter sprints in under 14 seconds and 40,000 lbs of weights lifted. The 100's went without a hitch, though Steve somehow bruised his heel. He more than doubled his poundage in the gym, lifting 80,700lbs.
It appears that the decision to leave Yosemite may have been wise. Below is a picture of Dave Talsky in Mammoth, yesterday.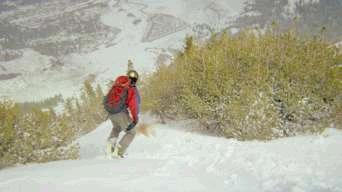 10/12
A Bad Start
And it hasn't even started.
An early-season storm pounded the Sierra yesterday, forcing Bob and Steve to turn around and re-schedule. This turned what was supposed to be a travel/rest day into a 17-hour driving marathon. Right now the schedule is totally up-in-the-air and Steve and Bob are too tired to update you further.