Latest Updates from Birthday Challengers Far and Wide...
8/19/09
Birthday Challenge's Future
I've been too busy to manage this site and, thus, have done a poor job getting out and reporting on stuff. Many epic challenges have gone un-recorded, including a few that I've been a part of. Ben Banks did an epic challenge in 07 and, even though I supported him through the night, it never got recorded. And local Wasatch Girl Rachel Strate has done two in a row, including one yesterday, that I haven't been able to get to. So, if anyone has some free time and would like to help keep the site up let me know.
Because we've been recording so few challenges I'm changing the format. I'll now put the latest challenges on top and revert to archives down below. This way it will ensure we have some of the old epic challenges always on the main page. I'll try and switch these whenever I do an update. If you want to nominate a challenge for the front page let me know and I'll make sure it gets some air time.
Here's an example of a challenge was, or maybe was. Looks like it either was or could have been very cool, but all we have is a partial report, that's still worth a look for entertainment value:
8/18/09
Greg Carter is set for an epic in Austin
One of our most frequent challengers, Greg Carter, is turning 40 and making it a big one. Check out his challenges over the years.
8/14/08
Secret Location Challenge in the works. John Harris reports:
I'm definitely going to start with a 30k, then the somewhat typical 300 pullups/pushups/situps. Also 300 4 count flutter kicks. I wont be able to take a bike with me but I will be on the lookout for something once I'm in the country. If i can find a ride I'd like to add a 30k ride. I'll also watch 3
John Wayne movies
. I'll do it all on Oct 20th, it will still be hot. And I'll add some sort of
local food
depending on what's available. What do you think?
Thanks
John
7/30/09
Beaver from Prana does 50 sports in a day for his 50th
Beaver Theodosakis has been planning a birthday challenge for years but something (usually injury) always got in the way. This year, he goes big at 50 but knocking off 50 sports in one day. Not only did he do all of the sports, he dressed appropriate for all of them. Impressive. He also made a video. Check it out:
7/14/09
Longtime Challenger Hans Florine Chimes in
Steve,

These guys are definitely Bday challenge kinda guys... read the blog.

Scott Gullberg and Sam Holcom climbed five state high points in 23:15
this past weekend: Virginia, North Carolina, Tenessee, Georgia, and
finally South Carolina. They covered 44 miles and 8000+ feet of
elevation gain.
Full story here: http://downtothewireblog.blogspot.com/2009/07/plan-b.html - this is
fun reading.

This is not just a one time thing Scott also climbed the south face of
the Tooth in 1:57:20, in June, sans skis. The full report is
below:http://cascadeclimbers.com/forum/ubbthreads.php?ubb=showflat&Number=699653

What did you do for the Independence/freedom holiday?

I climbed The Nose over the weekend in just under 14 hours, it was 20
years to the day since my first ascent with Mike Lopez.
www.noseinaday.com

Happy summer!

Hans
6/20/09
Hans' Challenge
Coming off a leg injury, Hans decided to work on his upper body strength and lift 45,000 pounds using just upper body muscles. Here's his report: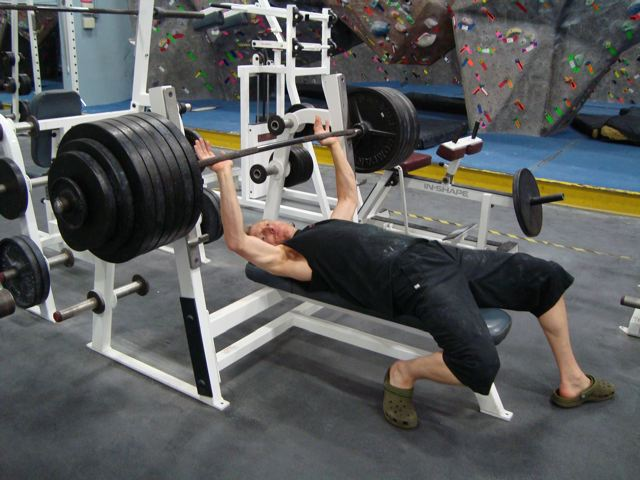 YES! only 64 reps of 710 lbs and I got my 45,000 lbs!
Well that was the plan. alas it turns out that I couldn't get too many reps with the 710 lbs.
I ended up doing 1255 reps to get the total tonnage. Bench, incline, decline, curls, military, tricep extensions, and bent over rows. All reps were done with free weights. one hour and 6 minutes. For sure this weight could be done in 45 minutes by a "lifter." I think Kgs is in the future.
Now I'm looking forward to the 45 routes in a day that I plan to do in the next few days.
Cheers.
H
6/14/09
So the challenge is out there...
We got this, but nothing else...
Dear Birthday Challenge,

I am planning my challenge (may 31st). I will be 30 and thought it was time to get in the game. I want to know if you have the contact info for the SF apple fritter folks. I am going to need 3 of those evil bastards. I am finalizing the details of my BC and will send the info when its up and ready. Thanks for the inspiration.

Matthew Cox
2/20/09
Todd from San Diego set PR on his bd challenge:
http://toddsultrarunning.blogspot.com/
we suspect this other challenge was also his:
1/14/09
Why You Should Do A Birthday Challenge?
Adrian sends out some love:
http://www.adriansbirthdaychallenge.com/2009/01/13/why-you-should-create-a-birthday-challenge/