Name: Josh Fairchild
Birthday: Oct 29
Occupation: Chinese Connection for 5.10
Resides: Redlands, CA

The Challenge

96 kilometers of road biking, with 6400 feet of elevation gain.

64 kilometers of mountain biking, with 3200 feet of elevation gain.

9.6 kilometers of running.

32 Sardines

32 Camparis and grilled cheese sandwiches.



I Thought This Was Supposed To Be A Puff Piece
Here's how I remember it.
Our Crew:
Angela Sandoval: my wife, cake baker, driver, the brains behind the team.
Steve Edwards: aka, Esteban: Fit, Drunk, German. Support crew captain, main drinking partner, tireless BDCer.
John Fieldhouse: Road bike guy (nice draft), likes to get up early, enjoys Campari in small doses.
Jennifer Fieldhouse: Chef, commissary, grilled cheese making machine, doesn't enjoy Campari, even in small doses.
Reed Bartlett: Big engine, born on the Ganges. Mountain bike guide, drinking compatriot, disappears at in-opportune times.
Patrick Schlosser: Safety expert, high-tech guru, owner of large vehicle.
Chad Elmer: Waif, birdlike build, un-known dorsal features. Goes uphill better than most.
Corvus, Ellie, Cody and Foxy: Dogs, slobber factories, occasional run partners, good nap partners.
Our Goal:
96 kilometers of road biking, with 6400 feet of elevation gain.
64 kilometers of mountain biking, with 3200 feet of elevation gain.
9.6 kilometers of running.
32 Sardines
32 Camparis and grilled cheese sandwiches.
15 minutes before midnight, Oct. 28: Sitting, waiting. Campari at the ready. Running shoes laced. Dogs eager.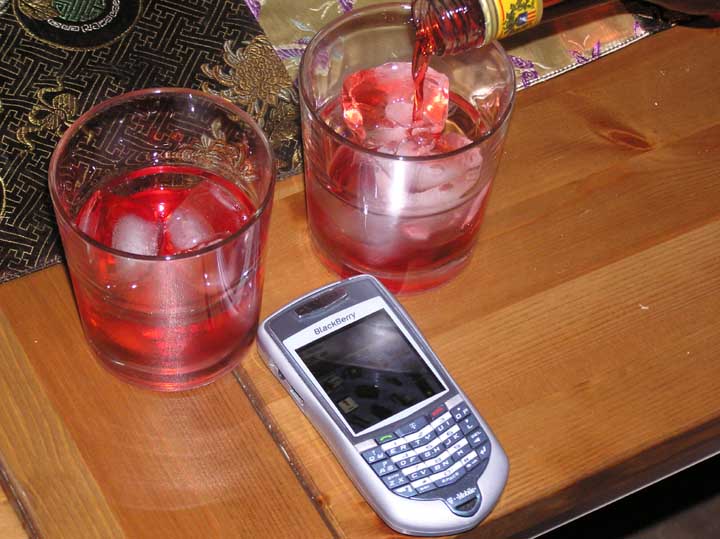 12:00. let's have a drink. that was good. let's run to the bar for some more.
Esteban and I are waiting for the hour to turn, I pour some Campari, midnight strikes - we're off.

We down the first Camparis, and I get my first feeling of invincibility.

This is gonna be simple.

Steve recommends run to the bar, killing a couple of birds with one stone.

Okay.

Hmmm.

Iíve run about 6 miles in the last 12 months. The first mile Ė to the bar Ė is all down hill, no problem. Get to the bar - Rama Garden, which is . . . a little strange. I mean, I go there about 6 days a week, but never on a Friday night, and never at midnight. It was like a disco. Everyone was real drunk. Steve and I are adorned in running outfits, and red beanies. Most people didnít even take notice. Michael pours us some drinks, yum yum.

The run home, uphill wasnít so much fun. Hmmm. 2 miles of running, starting to hurt. Could be trouble.
We get back to the compound on Pescespada Island, and decide to have some sardines and grilled cheese. What could possibly go wrong? Within 45 minutes, Iíve run 2 miles, eaten one grilled cheese sandwich, had 5 Camparis and 11 Sardines. I go to bed feeling pretty good about myself. Little did I know, deep down there was something bad brewing.

4am. A stabbing pain, in my gut, awakens me. A quick trip to the lavatory confirms that my body doesnít particularly like Sardines. (Note: Iíve never eaten sardines before this night. I had eaten one anchovy before. I liked it.) I get back to sleep for another hour and a half before the alarm goes off.

6am. Drink some coffee. Spend more time in lavatory understanding the complexities of sardine digestion.

never had a sardine. i thought it was your favorite food?

7am on the road bike. I proceeded to burp sardines for the next 3 hours. Yummy. Who gives a shit. John provides fantastic riding support through the road ride. Giving me a great launch onto both climbs. The first climb goes okay; Iím never at my best on the first climb of the day. Hard to find a rhythm. The sardines arenít helping. I eat a banana, hoping to burp banana rather than sardines. Instead, of course, Iím now burping sardines and bananas.

Over the first climb, and Jen shows up. Grilled cheese, she offers. I decline. Worried? A little. Through the first descent Ė 49.8mph - and up the slopes at the base of the second climb, Iím starting to feel better. The second climb is a bit more demanding, with a 17+% section right off the bat to get you thinking.

John catapults me off, and I start to find my rhythm.

Nice.

Sardine burping diminishes.

There are few more joyful things to me than going uphill, in the mountains, on my road bike.

I stop at a little respite to pull of the leg and arm warmers, and as Iím getting back on, John comes up.

Heís hurting with some strange electrical charge running down a leg.

I go on, and he says heíll call for the sag wagon.

ĺ of the way up the final climb, the shining visage of the Team Van is coming down for me. We reconnoiter at the top, I feel good. Iíll see you at home. The descent off of Oak Glenn towards Yucaipa is quite fun, except in the fall when everyone is up picking and eating apples, when itís real scary. Towards the base, there on the side of the road is none other than John, he reversed the second hill and came around the flanks to help me home. What a guy.

above & left: with john before the bike, with ang at the summit

below: man's best friend. ellie, the team van driver, executes a perfect hand off.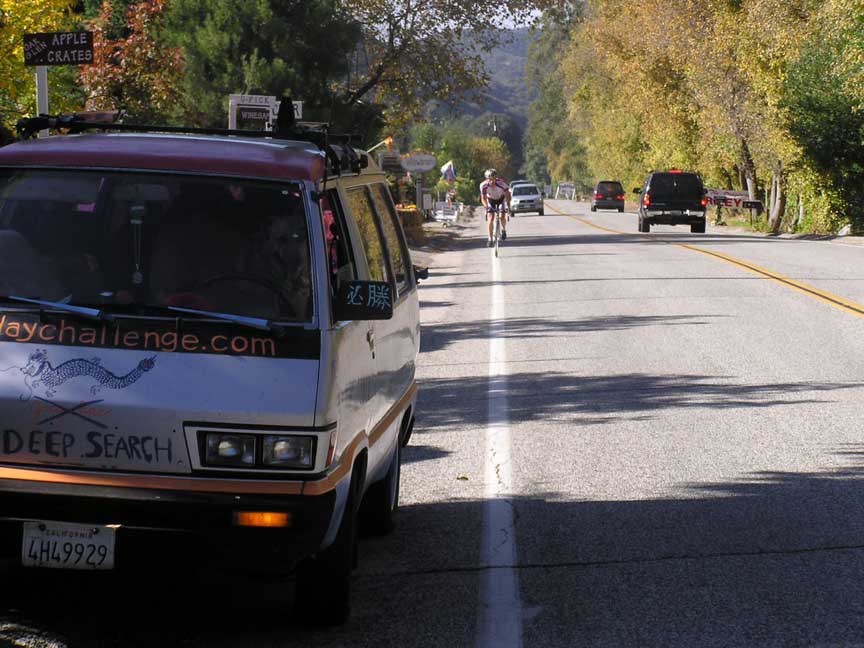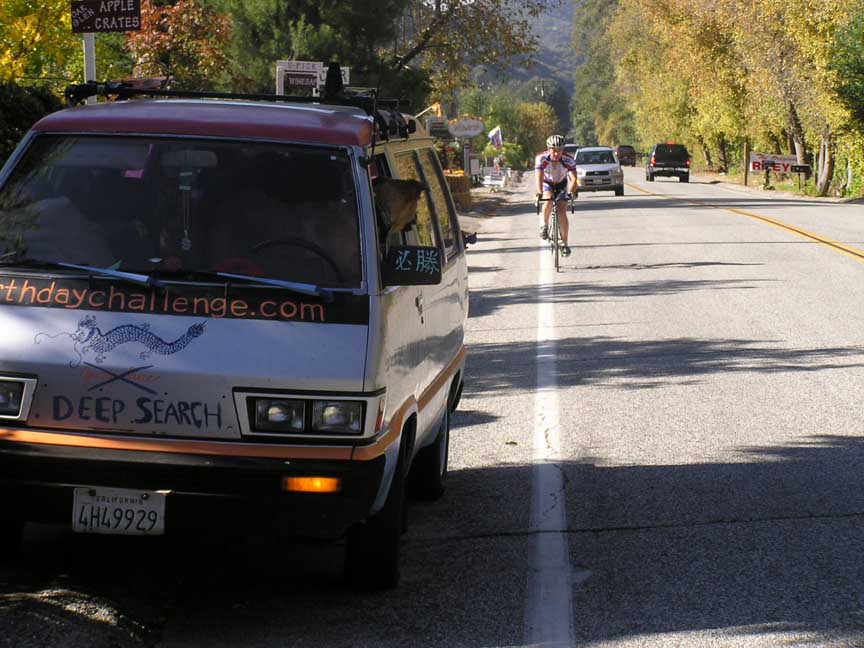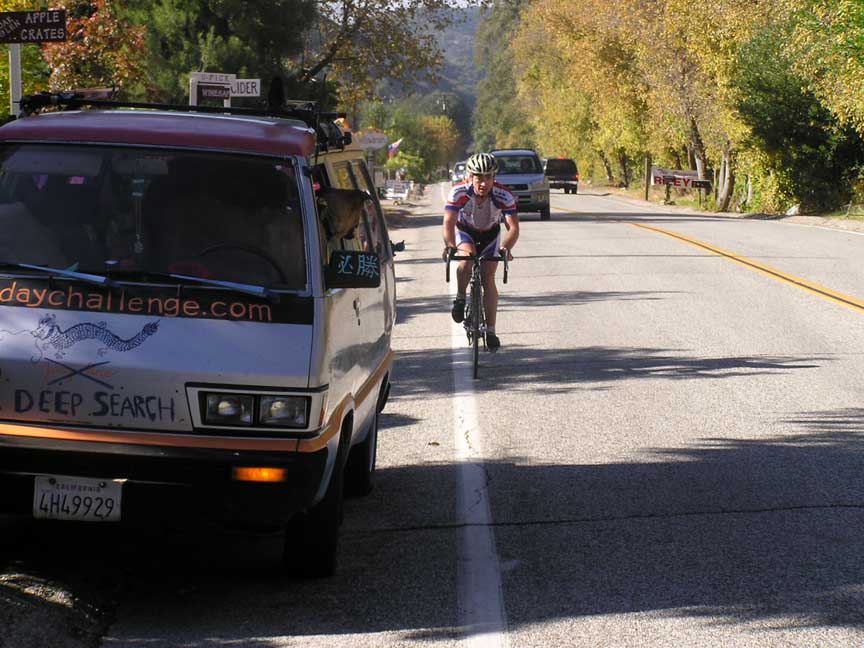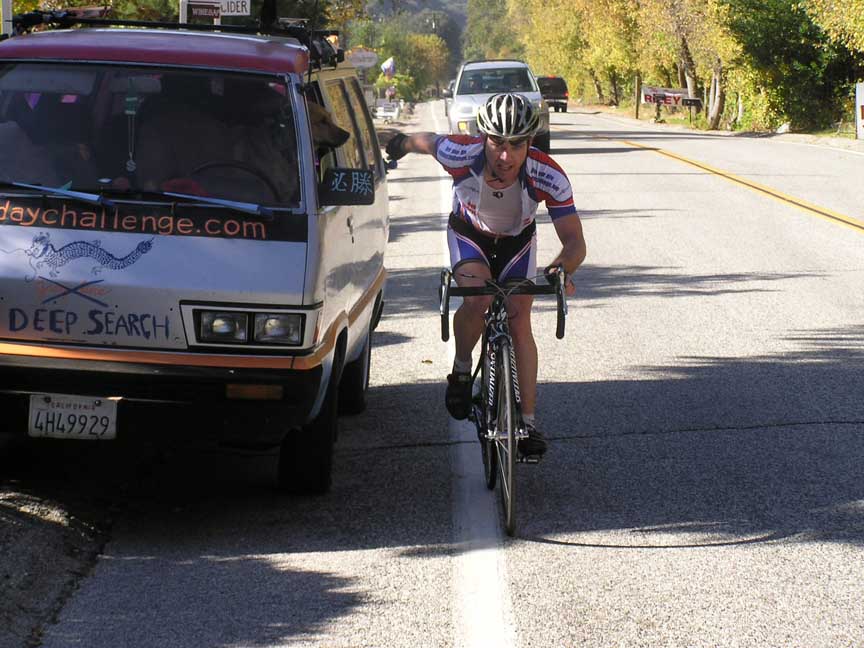 11:15am Home. 15 minutes ahead of schedule. Simple.
11:30am eat some more grilled cheese, drink some more Campari, but Iím steering clear of the Sardines. A show down is brewing. Fishes, man.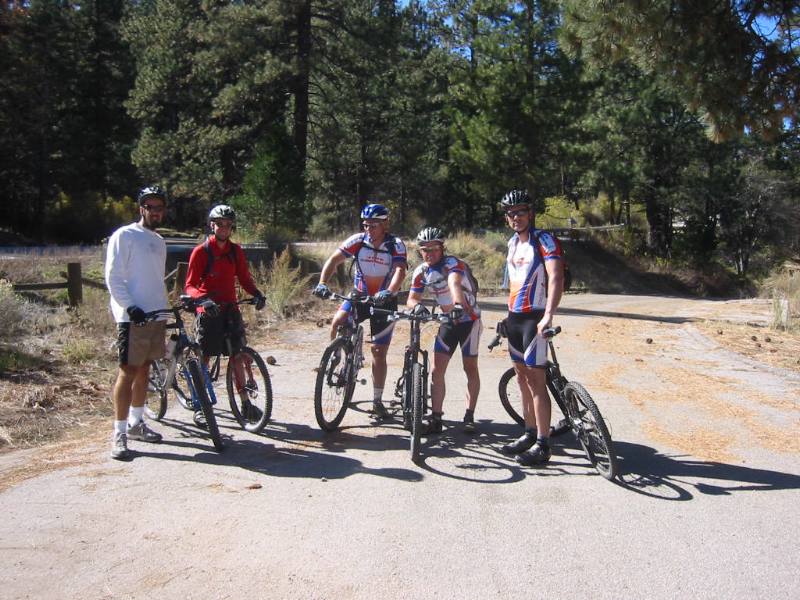 a pack of strays: pat, chad, reed, josh, steve

12pm the crew assembles. Load up the enormous red vehicle with bikes and people, and drive up the South Fork of the Santa Ana River: A fascinating region teaming with extraordinary single track. We chose its trails as our next destination.

1 pm and weíre off on the mountain bikes. The first 11 miles of this trail are rolling, wonderful single track. Some of the best Iím told.
After 11 miles, we hit some fire road and start climbing.

Hmmm.

My legs donít feel great.

I take some salt pills, some anti-fatigue pills, drink some water, and try to find a rhythm.

By the top of the climb, Iím feeling okay.

We stop at the country store for some refreshments.

I have a can of coke, and pretty much regain my feeling of invincibility.

What do they put in that stuff?

By 4pm weíve covered a little more than half of the ride. One last major climb and then its just miles and miles of highly technical, steep, overgrown single track. No problem. Chad, as befits those whose bones are hollow, flies up the climb on his single speed as if he was riding up the driveway. I decide that, since this is the last climb of the day, and since what the hell itís only bike riding, I should go faster. So I do. And then I hurt. And then I remember the 21 sardines still awaiting their place in my gut, and then I slow down. And then, Iím out of gears.

At the top of the climb, I want a nap. He next 6-7 miles are technical single track. And someone should go up there and clear that trail. Full fingered gloves and long sleeves are a must. Full body armor and a full-faced helmet would have been nice too.

At some point, I take a deep breath and realize, oh yeah this is the Inland Empire and the sky really is brown. I have smog lung; a simple affliction wherein your lungs burn from the tiny particles you are inhaling. Wonderful.

above: various poses on the santa ana river trail. a rather technical crossing.

right: wait a minute. take!

below: josh laid out after the right, then right back in action. it was a tabby, i think.
6:15pm we pull into the yard back at the compound, and I crawl off of my bike and lay my self down on the concrete. I feel great, just not physically or mentally; its more of a metaphysical thing. Pat and Chad head off for smarter activities; and its just Esteban, Angela, me, and the dogs. We eat some grilled cheese and Steve realizes: itís not his challenge, why is he eating the same as me. Iím not feeling it for the sardines, or for the remaining grilled cheese, or the run, or Camparis.
7 pm. I take a very long hot shower. I need some motivation. I need some energy. I donít need any more grilled cheese, sardines or Campari. I could probably go without running 4 miles too.
7:15 pm I lie down on the couch for a little rest. Mistake? Yeah, probably.
7:30 pm Iím startled awake by Ellieís tongue. What a dog! She doesnít want to see me fail. I jump up (more of a roll and grown really), slide on the running shoes, have a Campari, and Iím off for two miles of running.
7:50 pm. 20 minutes = 2 miles. How hard can it be to run two miles? Well . . .
8:00pm. More grilled cheese, more Campari. Still struggling with the Sardines.
8:30pm. I decide to finish the running. Angela hitches Corvus up. Is it cheating if he drags me the final two miles?
9:00pm. Corvus and I finish the run. Heís significantly more upbeat about it than I am, as if . . .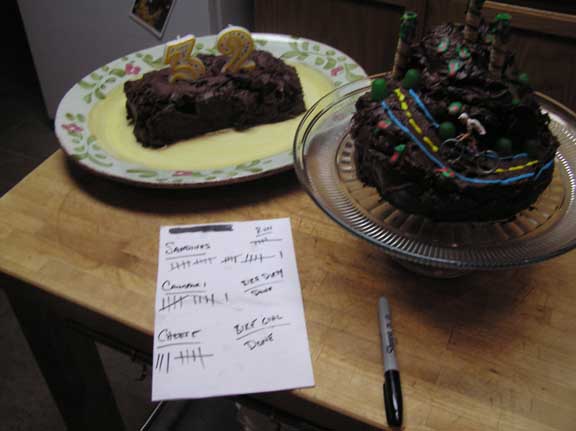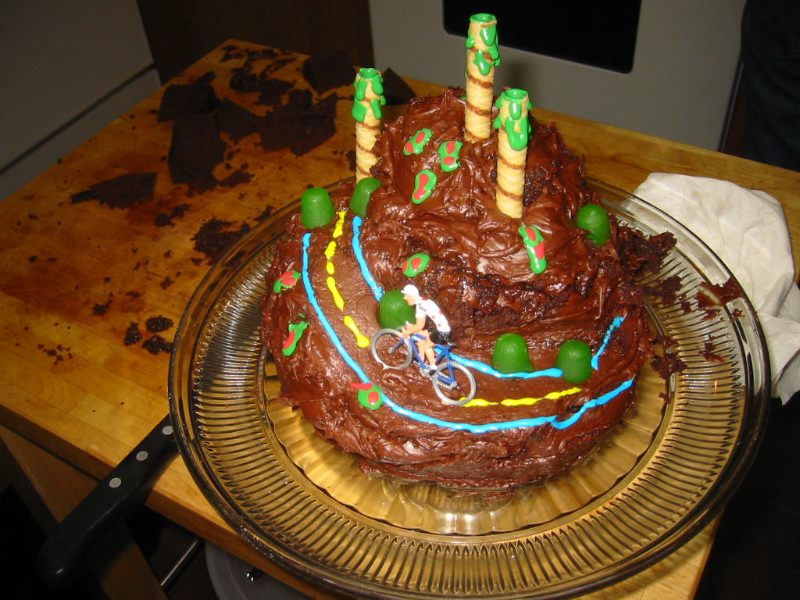 above: corvus dressed as gollum for halloween pulls josh along for promise of fisheses.
less above: people pay thousands of dollars for wedding cakes. ang molded this masterpiece in 30 minutes. a true work of art.
9:15pm. Thereís an open can of Sardines sitting on the counter. In my absence, Steve and Angela have been tallying: there are 9 sardines in that can, they tell me. That will put you 2/3s of the way there, they tell me. Then I notice the tally of Grilled cheese: 7. Yikes. Camparis: 9. Double Yikes. Shit. I may be sandbagged here. I donít want to eat any more. I want a Manhattan: a good drink, with Bourbon. I eat the 9 sardines. I want to puke. 2 more Camparis, quickly.
Iím done. No more fish. No more cheese. No more bread Ė well, okay, Iíll have a little cake. I quickly realize that my Campari, sandwiches and Sardines adds up to more than 32. Thatíll have to do. I mix Steve and I some Manhattans, Angela cuts the cake. We toast. We eat. I go to bed.
Final Tally:
96 k, on the road bike w/6400 ft of climbing
64 k, on the mtn bike w/3200 ft of climbing
9.6k running
32+ Camparis, Grilled Cheeses, Sardines.
A big thanks to everyone who helped. It was a fantastic day. Iím already thinking about next year. Anchovies!