11:00 -
The failure on Nat's has been costly. I'm falling a lot now. Three burns to do Harrison's Harassment. Four burns to do the Heel-hook problem. Yikes, I'm really feeling fatigued. Luckily I only have 6 more problems to go. My muscles are starting to feel a bit polluted. I keep telling myself that the fritters are giving me good carbs for the endurance events, but they haven't done much for my climbing.
1:00 -
The boulder problems are done. A bit shaky, but they are behind me and completed. I've had another half of a fritter for good measure, mixed some carb drink, packed a nutrition bar (I don't really want to put a fritter in the pocket of my cycling jersey) and I'm off.
1:40 - 15 miles and two climbs behind me, I feel pretty good, not snappy, but not tired. Lydia (my support team) zips past and I pull over to load up with fluid for the rest of the ride.
Mile 25 - I have been looking forward to making good time on this long downhill, but the headwinds are so strong that I've dropped down to my small chainring and I'm working hard to make 13 mph. Weird.
Mile 32 - My rear-end has been aching for some time now and my feet are burning. I regret that I didn't stop when I reached the Delta to cool off my feet in the cold water. No problem, just keep peddling. "Everything will be great once you hit mile 50" I tell myself.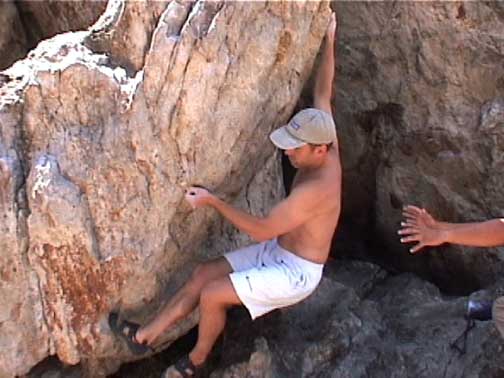 Mile 45 - "My a** is killing me!". It has been a mantra in my head for many miles now. Thank goodness my feet hurt so much. It's nice to have a bit of a distraction from the pain in my rear. Hmmmm....what is that, stomach cramps? I'm afraid to burp for fear of tasting fritter. "Everything will be great once you hit mile 50".
Mile 50 - I bonked at mile 47. Perhaps I should have done training rides longer than 40 miles. Did I mention what a beautiful day it is? "My a**..." is now playing to the tune of "Chan Chan" by Buena Vista Social Club.