Name: Hans Florine

Birthday: June 18, 1964

Occupation: Professional climber

The Challenge

Do 50 pitches in Yosemite in half a day

Do The Nose in half a day

(All solo, though not in same day)
Birthday 2005: The Only Thing Better Than Climbing Is Lots Of Climbing
6:47 am left car (LC)
Climbed Bishop's Terrace (2-pitch, 5.8), car to car (CTC) 11:57 returned to car (RC)
6:59 am 7:30 am LC, Climbed Royal Arches (17-pitch, 5.7), CTC 1:09:52 RC 8:39 am
8:56 am LC, Climbed Church Bowl Lie Back (1-pitch, 5.8), CTC 9:36, RC 9:05 am
9:19 am LC Climbed Commitment (3-pitch, 5.9), and Mungenella (3-pitch, 5.6), CTC 46:50 RC 10:05am
10:25 am LC Climbed After 7 (5-pitch, 5.7), After 6 (5-pitch, 5.6), and Nut Cracker Direct Start (5-pitch, 5.9), CTC 1:27:20 RC 11:52
12:04 pm LC Swim, lay on beach, do 100 sit-ups, 10 pushups, CTC one hour, RC 13:04
13:25 LC Climbed East Buttress of Middle Cathedral (10-pitch, 5.10a), CTC 1:02:50 RC 14:27 (30 minutes for the climbing part)
Seven Hours and forty minutes for 50 pitches! And 100 sit-ups.
not fast enough for ya? well, there's more...
Trip report of Hans Florine climbing solo, The Nose in half a day.
On Saturday July 30th, I left my car at 4:22 am and started towards the base. It was about 58 degrees F. I arrived at the base of Pine Line at 4:36 am. I flaked my rope and put on my climbing shoes. I soloed up Pine line trailing the rope. I was on the start ledge of pitch one as per the SuperTopo guide, and started my stop watch at 4:50 am, I soloed up 12 ft and put in my anchor. (I didn't think that building the anchor before the clock started was OK, but that's a MINOR detail) I have a 70 meter Yates "Speed Big Wall rope", (see complete gear list at bottom of page) so I did the first two pitches in one rope length. that took me 35 minutes to lead, rap and clean. I combined pitch three and four and was at Sickle ledge in 69 minutes (the one tenth mark for most NIAD teams, if you're interested).
I soloed, un-roped, pitch five and all put the last 20 ft of pitch six, where I leap frogged a couple pieces. I threaded my rope through the chain link and put a leaver biner there, lowered myself off and pendulumed over to the dolt hole cracks, climbed up 70 ft and put in an anchor, pulled my rope off the anchor from the top of pitch six. I led a full 70 meters into the stove legs and then another rope length to take me to the bottom of the three to four inch section that finishes off the last 160 ft of Stove legs. It was here that I just shuttled along a # 3 and #4 camalot. I arrived at the top of Dolt Tower in under three hours. I lowered off the right side of Dolt Tower and climbed up 40ft, pulled my rope and soloed, un-roped, all the way to El Cap Tower, with some gear shuttling here and there.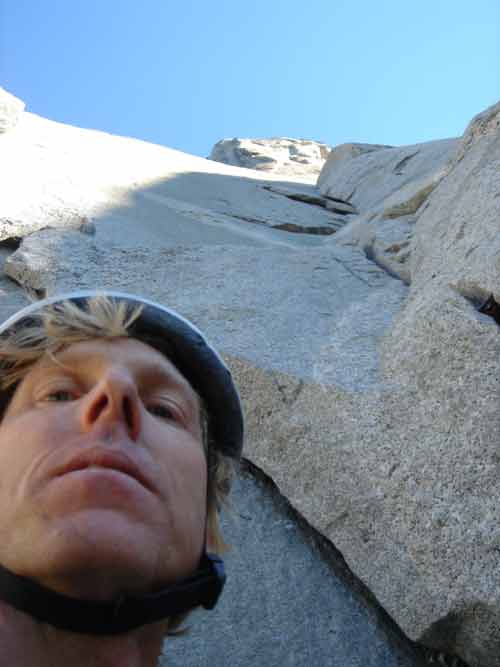 I left all my gear on EL Cap Tower and soloed up to the top of Texas flake, then hauled the gear up. That was fun! - Climbing with no weight on me! I "Metroviched" my way up the bolt ladder to the top two bolts of the bolt ladder and set an anchor, then rope soloed to the top of boot flake. I lowered myself off cleaning the gear on the way down. Reached the anchor and nailed the King Swing first go. TIP!- when doing the King Swing lower until your feet are between the top and second to top bolt. I climbed up to the bolted anchor about 70ft above Eagle ledge and pulled my rope from the rap rings on top of Boot. I led the next pitch and over to the nice bolted anchor at the far left of the gray bands, where I ran into the bottom person of a team of four Koreans. Their leader was half way through the Great Roof pitch. I led from there to the base of the great roof, shook hands with all the Koreans and proceeded to eat some smoked Mozzarella braided cheese for lunch while waiting for the Koreans to clean the Great Roof. My time as I passed by camp four was five hours and 16 minutes. ( the half way point for most NIAD teams) As I led the Great Roof pitch I caught up to their follower and coached him through the finer points of following a horizontal traverse. I connected the Great Roof pitch with the first 2/3rds of the Pancake flake pitch after asking the Koreans if it was OK to do so.
The Korean party said they had only a liter of water left and asked if I could fix their ropes up to camp six, four pitches up. So I did, and found a taped two liter bottle of water at camp six which I brought down to them at camp five. I'm not sure if I put them in a worse position by not "insisting/influencing" that they rappel to the ground…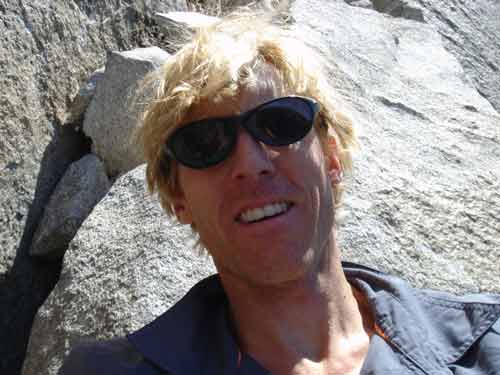 After the work of breaking free of the "Korean rope hauling and water drop situation" the time expired from take off was about eight hours once I was on Camp six by myself. I started really feeling the exhaustion at this point. - I had to use my aid ladder where normally I just French free. Jugging on this steep bit was a grind, I was panting and resting nearly every stroke. Two rope lengths from Camp six brought me nearly to the end of th e steep lip of the final bolt pitch. From there I "Metroviched" it to the top and soloed off. Working hard to be attached to at least two bolts at all times. (easier when you have a 6 ft 1 inch ape index) It was 16:31, 4:31 pm, when I tagged the chains where a normal party walks off, and 16:35 when I arrived at the tree.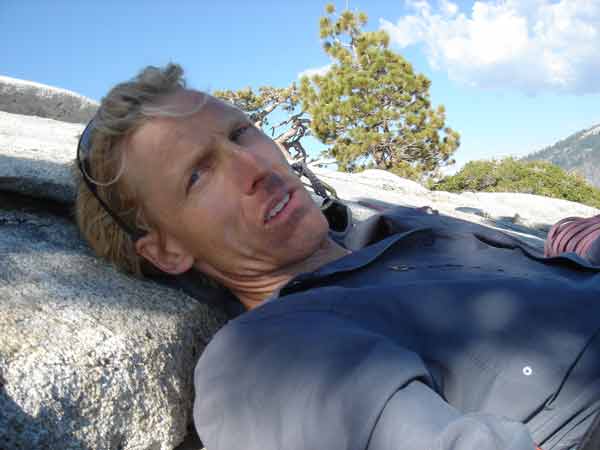 I crumpled on the ground, laid there, and had not the strength to remove my harness nor get stuff organized for the hike down for some 30 minutes. see video. After drinking about a liter of water from a bottle left at the top by someone and nearly puking* I managed to put myself together and started on the down hike at 17:45. * the water wasn't bad, I was just completely wasted. I probably lost 7 lbs during the day in water weight. Although I was in the shade up to the pancake flake except for 50 minutes the average temperature was in the low 80s. Cooling wind was so strong up at camp six that my entire rope at one point blew above me.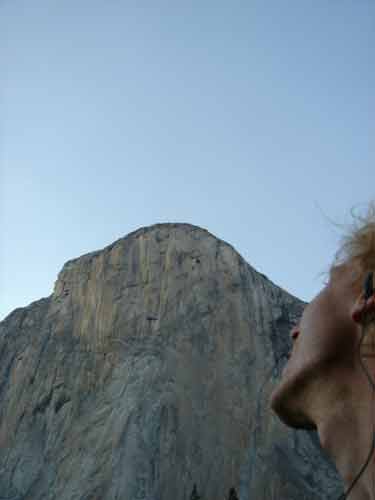 Summary: I climbed by my self The Nose route on El Capitan in 11 hours and 41 minutes, as per past consensus of how route is timed. (from base of Pine Line on the ground to the tree on top was 11:54.) My Car to Car, CTC, time was 15:24 My previous best time was 13:41 and that was the day I did Half Dome first. You can see the 25 fastest times on the Nose here. and the list of people that I know of who have done NIAD here.

Gear: I took with me the following on the route: synthetic Nike ACG T-Shirt, Tech collared long sleeve shirt, longe Nike ACG pants with zip off bottoms, underwear, SmartWool socks, Nike ACG Switchblades, with Superfeet, Petzl Metior Helmut, and climbing shoes. I took two of every cam below 1 inch, three 1 inch pieces, two 2 inch pieces, one #3 and #4 Camalot. (Included in that was a 1 and 2 Max Cam) I took one 70 meter rope, one altered Grigri, one set of Speedy Stirrups, one aid ladder, Petzl ascenders, eight quick draws, nine free biners, two long runners, about 8 nuts, on Leeper cam hook, the smallest and 4th smallest Hybrid Alien, and six locking carabiners. I also took two watches, backpack, five PowerGels, three assorted Power Bars, one 8 oz braid of smoke Mozzarella,one packet of UpTime, one everything bagel, two liters of plain water, one liter of limeade water with revenge, 500 mls of mint water, one camera, one E blanket, KINeSYS sunblock, ginger honey lipbalm, sunglasses, Piranah, Ipod Shuffle and ear buds, gloves for rope handling, gear rack sling, Petzl Tibloc, Petzl harness, and a roll of athletic tape. I didn't bring a topo this time.