May13th, (day 1), morning in bed "cranked out" 40 quick kisses on my wife and immediately saw that just 40 kisses was to easy and made my wife way too happy. - Changed it to four SETS of 40 kisses. started in on some sit-ups. noon did another set of 40 on Jacqueline. by 2pm I had 230 sit-ups done and felt I could go off for a bike ride, so I did. Rode 16 miles came back showered and gave wife another 40. busted out another 100 sit-ups and threw in some other exercises for the: 4th set of 40 kisses sweetly placed on my wife before 9:30 pm. Cranked out the final sit-ups to make it 400 before 11pm and called it a day.

Days 2 and 3 rest and travel days,

May 16th, (day4), Arrived back from Seattle 16:15 ( military time). Basically two days of rest under my belt. Set back up at home, kissed wife, asked if I could go for a time trial on the mile run before kids got up from afternoon nap. Ran to Accalanes track, girls soccer game going on the track field. Hmm , what to do? AH ha there's another guy training 400s. And here comes a jogger. I guess it's ok to run, and heck I'll have a stadium crowd for my final 100. Stretched, did butt kicks and fast knee lifts, stretched rested until heart went below 100 BPM I needed to run four 83 second quarters to beat my record of 5:34, that would be 41.5 second 200s ( 220s) BANG I'm off first 200 in 37, first quarter in 78. second quarter at 87, third quarter at 91, 200 to go and the watch read 4:54, YIKES! I've got a shot at it! I ran the last 200 in 37.88 for a finishing time of 5:31:88 New lifetime PR in the mile by 2.12 seconds! AND another 40th challenge met!

May 17th, Day 5 Headed out to ride on the bike with Mo Mcgee. 4,5 miles alone before meeting up with Mo at the Iron Horse Bike trail. Rode down to Trader Joes in Livermore, 23 miles. Started figuring that this ride could be easily prolonged to be one of my 100k days. Regrettably I only had a t-shirt on and probably burned as many calories this day staying warm as I did turning the cranks. Got back to Walnut Creed and had logged 46 miles. Rode up to Pleasant Hill with Mo. to make it 51. headed home to Lafayette and looped out Bike trail another 3 miles to make the day total 63 miles, or 100KM! Thanks Jacqueline for giving me the extra time. Stats 5 hours and 31 minutes out, 14 miles off the bike trails 49 on bike trails. My hinny hurts..

May 18th, day 6, Climbed 10 Yosemite pitches with Scott Cory.

May 19th, Day 7, banged out 170 push-ups before noon. went out to Park with kids to meet Greg and Ryan. Greg joined me for 120 more pushups. Steve Edwards joined me, virtually, for the 400 push-ups. Finished the 400th push-up at 21:00.

May 20th, recover from pushups teach clinic in Belmont.

May 21st, ran 2.2 miles at a 7 minute mile pace, ascended 44 boulder problems at the Touchstone Concord member competition. took 3rd place. gave 40 kisses to Marianna and Pierce.

May 22nd, (day 10), did 3 loads of laundry. rested for Sundays marathon....

May 23rd, day 11, I ran a marathon or a little over 40 kms. I have a high tech distance measuring device I wear on my shoe from Nike Timing, so I was able to make any course I wanted as long as it totaled 26.2 miles. I started off at 7:12 am from our Lafayette home and headed for the Lafayette/Moraga bike trail.. I ran the first 5 miles in 38 minutes, That's a 7:36 minute mile pace! Things slowed down from there. At 6.7 miles I had my first water and Power Gel break at the Moraga Commons. At mile 9 I found myself running by my old high-school track and couldn't resist going for lap around for time, I did a 92 second quarter! I arrived at Lafayette reservoir after running 12 miles. The half way point, 13.1 miles, was reached in 1:48:16, with an average heart rate of 160 BPM, and an average mile pace of 8:16. The reservoir has a rolling paved 2.7 mile loop so I did that three times. My wife, Jacqueline and the kids saw me each lap and gave me a banana, Power Gel, Pria bar, and Revenge sport drink. That got me to nearly 22 miles, so I headed home via a different shorter route. I have an instantaneous reading on my high tech watch for current mile pace, it was scary! - often times going over a 10 minute mile pace. I really never thought I could "RUN" that slow! But there I was slogging along. As I approached home I could tell I would be a half mile short so I added a 1/4 mile detour which was darn debilitating to be running AWAY from home given how my legs felt. I finished exactly at 26.2 miles as I was 50 ft on to the cobblestones of our driveway, Jacqueline was filming. so we should have that on the web shortly. Check back in. OHH.- I finished the run in 3:57:40 That's a 9:05 minute mile pace average. My last half average was a 9:53 minute mile pace and the average heart rate in the second half was 147 BPM. I hopped into our pool to cool the legs off and stretch. I'm knackered, but psyched MY FIRST MARATHON RUN! (because someone asked: NO, I did not stop the time when I drank or ate or went potty)

May 24th, day 12,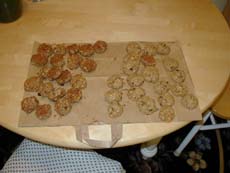 I'm whooped, my legs are very stiff and sore! I got in an hour of Yoga. and nailed 40 very good cookies! - Oatmeal/raisin/pistachio/butterscotch.
May 25th, day 13, 5:40 am start. met Jim Cope at the Touchstone Concord gym. We jumped on the wall and I climbed 40 routes with no falls, ( I did 41 if you include a hang on one route). I managed to do the routes in 3 hours and scored 823 pts per the workout sheet. my40 routes were comprised of: 17 routes of grade 5.9 or less, 18 routes of grade 5.10, and 5 routes of grade 5.11. Ran/strided with stroller 2.4 miles to pick up Marianna at school. Looking at doing the 40 swim laps later today, stay tuned...... nope I did 5 laps.
May 26th, day 14. 5:58 am started riding the bike. went down the Lafayette/Moraga bike trail 8 miles to Moraga then out Canyon for 2 miles, it then gets steeper, I turned around - wanting to keep my MPH pace high. Wandered by JMIS my junior high school. Rode out to Orinda and out San Pablo rd to Richmond. Hung a right on Castro Ranch and looped into Pinole for a mile. Tagged the edge of Martinez on Alhambra rd, then went on to Pleasant Hill. Got on the bike trail and headed out towards Concord/Clayton for 6 miles. turned around and came back through Walnut Creek and tagged into Rossmoor before coming home for another 100 km ride complete! and SWAM 40 Laps in condo pool! - finished swimming at 10pm.
May 27th, day 15. I did a few reps for my 10,000 challenge. I bought five King Pin Fritters with the eye towards eating four of them on Saturday when I climb Half Dome and El Capitan in a day.....
May 28th, day 16 . I read aloud more than 40 sentences of Ayn Rand to my wife and kids on the drive up to Yosemite. I choose Ragnar night meeting with Rearden, and the scene where Francisco and Rearden have just finished saving a blast furnace from blowing up.
May 29th, day 17. I started at 4:15 am from the Yosemite home, drove to the valley with Peter Coward. Started hiking from the car to El Capitan with Peter at 4:45 am. Passing only one party en route, and one at the base, we climbed The Nose route in 7 hours and 49 minutes, . We then hiked down to the car, ate a chicken in El Cap meadow, and drove to the other end of the valley. We hiked 2 hours up to the base of Half Dome via the death slabs. We then climbed the Regular route in 6 hours and 9 minutes, passing only one party that was retreating. We topped out at just past midnight- the 30th being Peter's 40th birthday! We returned to the car at 4:25 am via the JMT and mist trail for a CTC of 23:40. 54 pitches of roped climbing! I slept for an hour on my family room floor and was on duty the rest of the day to play with Marianna, Pierce, and the Fettke's. see May 30th below for more.
May 30th, day 18. I ate a King Pin Fritter at 8:05 am. I ate the second one at 10:35 am. Went to EC meadows with the Fettkes, jumped in river! I ate half of the third Fritter at 3:35 pm. I ate the 2nd half at 5:45 pm. I ate half of the fourth at 8pm and the second half at 8:50 pm. the first two tasted good. the last two weren't bad. 4 fritters on a big recovery day, no worries.
May 31st, day 19. I spent 40 minutes steam cleaning the carpets at the Yosemite home.
June 1st, Day 20. did a light load of the 10,000 challenge. Resting for the 40,000 Kg tomorrow. And did a Yoga pose every 50 seconds FOR 40 seconds, for 40 poses!
June 2nd, Day 21. Lifted 40,000 Kg with Rich Fettke! took 3.5 hours. more details-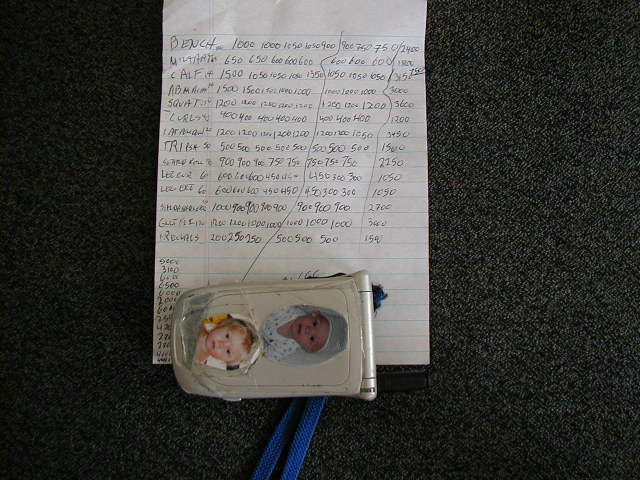 June 3rd, Day 22. 400 Lunges. finished em in a set of 80, 190, and 130.
June 4th, Day 23. 400 Ab-Rollers! Yeah baby no hernia from it YET! Also got my record repetition day for the 10,000 challenge!
June 5th, Day 24. I did 37 reps of each of the classics in honor of Phil Requists 37th birthday.
June 6th, Day 25. Originally planned as a day to do 400 pull-ups, I started the morning with a 100 km bike ride. A fantastic loop this morning. Starting in Lafayette, 4 miles to Pleasant Hill, 8.9 miles to Martinez, 17 miles to Crockett, 20 M. to Pinole, 24 M. to Richmond, 27 M. to San Pablo, 29 M. to El Cerrito, 46 M. to Orinda, 51 M. to Moraga, 63 M. to Lafayette. (63 miles IS 100KM)
June 7th, Day 26. Cranked off 440 pull-ups. Played with the kids. Did some other "10,000 challenge" exercises.
June 8th, Day 27. worked on 10,000 challenge.
June 9th, Day 28. Worked on 10,000 challenge.
June 10th, Day 29. Ran four 400s, 68, 68, 70, and 72. Not the goal/challenge time but a successful ATTEMPT.
June 11th & 12th days 30 & 31. 10,000 challenge stuff and being dad!
June 13th, Day 32. Four formations! Steve Edwards of Birthday Challenge DOT COM fame came through with a stout challenge, AND JOINED ME ON IT, here is the play by play... 3:40 am wake up, Steve has coffee, I have toast, we drive to meadow. 4:40* am we leave the car in El Capitan meadow. (*always weaving that number 4 or 40 in there.) 5:08 am we arrive at base of East Buttress of El Capitan. 12 minutes to get ready to climb. 7:04 am arrive at top of El Cap East Buttress route. 7:55 am arrive back at car. 8:29 am leave car in Awanhee lot. 8:32 am start climbing Royal Arches. 9:23 am top out on Royal Arches route. 10:27 arrive back at Awanhee parking lot. 11:08 hop on bus at Curry village. 11:10 hop off bus at Happy Isles. 13:03, (going on military time), arrive at base of Snake Dike via "left of Broderick approach", onsight! 13:22 start route. 14:13 top out on Snake Dike. 14:37 arrive at top of Half Dome. descend cables and down Death Slabs, Steve's first time! 17:06 hop on bus at Mirror lake stop. 17:50 leave Manure Pile parking lot. 17:55 arrive at base of NutCracker route. 18:48 arrive on top of route. 19:05 arrive back at car! 14 hours 25 minutes and 31 seconds Car To Car time! we covered 16 miles, that's 4 squared miles. We climbed 40 pitches, and we did it in under 16 hours, 4 squared again. Kicker - Steve drove back that evening 6 or so hours to Los Angeles, and made it to work at 8:55 am. And he had a Samuel Smith's Stout in the meadow before driving!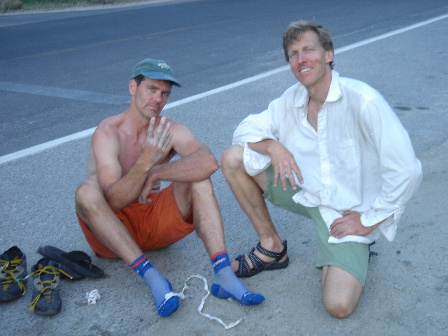 June 14th to 16th, days 33 -35. Not much, little of the 10,000 challenge.
June 17th, Day 36. Four hour evening with wife Jacqueline. Saw "Super Size Me"
June 18th, Day 37. Started off at Mission Cliffs gym in SF at 5:37 am with Marc Heilman. Climbed 42 routes , did some 10,000 challenge exercises , then beat myself up bouldering 61 problems. I scored 1700 points per the CCR workout sheet! the goal here was 4000 points. - So I didn't "meet" this challenge. had a PARTY! well over 40 people showed up. I was served 4 martinis but only drank 2.5,
June 19th, Day 38. biked 100km! Finished the 400 Km of biking! Baker, Connolly, Edwards, and McBride are ace bikers. They took me on a 66.5 mile loop that likely had at least 4000 ft of gain. These guys whooped my butt as did the darn bike seat! super nice day for it. Thank goodness I didn't have all the martinis that were poured for me the night before. Started at Peets Coffee near the Claremont in Berkeley, went over tunnel road, down pinehurst through Moraga, Lafayette, Pleasant Hill, Martinez, Crockett, Hercules, Pinole and back through Tilden park.
June 20th, Day 39. Father's Day. Threw a football 40 times to Scott Bovard in the pool. Started on four beer challenge and was too tired to continue. Sold three pairs of shoes for $40 each to donate to orgs.
June 21st, Day 40. I got out and did 40 loft kicks with a soccer ball in under 4 minutes worth of effort. I wrote 40 words for my new book/book-proposal. I made 4 calls to book shows, I sent 4 emails to friends, I sent 4 cards to solicit shows. I got at least 40 repetitions in of each of the exercises in the 10,000 challenge. I the last 40 minutes of the day intimately with my wonderful wife. I committed to attempt the 9 challenges I did not meet or did not attempt during the 40 days of my challenge during the next year.
Post event: 6/28/04 I've now finished one day of fasting. - A juice fast.,
.